The US-based accessory designer Joanna Buchanan celebrates the awakening of spring with a collection inspired by nature.
With the clearly noticeably longer days, blooming flowers, trees turning green and sunnier weather, spring is finally announcing itself and nature is awakening to new life. Constantly inspired by nature and its elements, Joanna Buchanan creates beautiful accessories for indoors and outdoors, opulent decorations for every taste.
Blooming blossoms, inspiring wildlife
Joanna Buchanan celebrates the magical awakening of nature in spring, from the return of migratory birds, the first blooming buds, the returning butterflies and the variety of new colours and light that come with this rebirth. The bee, icon of the brand, becomes active in spring and is represented in several products, from reusable straws to stirring sticks, bottle openers and napkin rings. Butterflies and bees are seen as symbols for change, generosity and natural beauty. They bring lively colours and bright light into every interior and on every table.
Share moments that nature offers
The rebirth of nature in spring, with the arrival of warmer days and the first rays of sunshine, offers moments of coming together, sharing and celebrating. Joanna Buchanan's products accompany everyone through the seasonal change with beautifully designed objects that celebrate nature as well as generosity. Her tableware and barware collections are magical representations of the diversity of nature, because setting your own table feels like caring for your own garden, which gives life color, light and joy.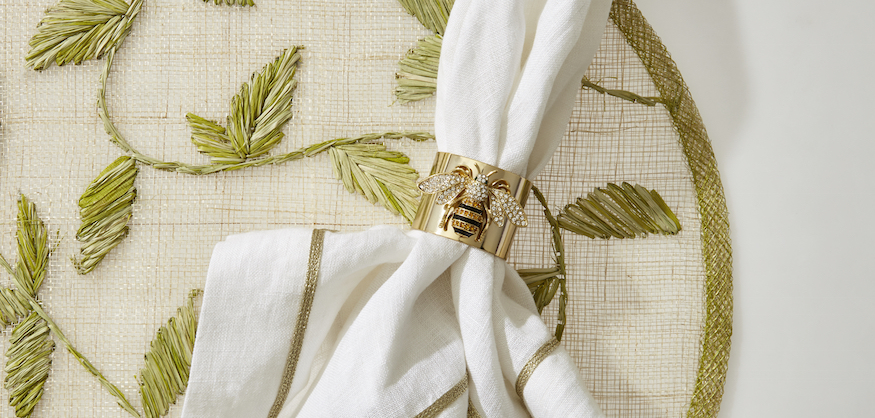 About Joanna Buchanan
Joanna developed a distinctive vision for luxury, color, texture and pattern through her 20 years in the fashion industry, her childhood in Hong Kong, her adult years in Europe and traveling around India. Her line of luxurious, seasonal accessories was born in 2014 out of her mother's love for the tradition of Christmas decorations. Inspired by memories and found objects from her grandmother's jewelry collection, she has developed a new way of looking at classic holiday decorations – a curious modification of conventional jewelry, with which she changes the holiday season with a touch of vintage sophistication and glamor. From tableware to barware, including pillows, candles, jewellery and hanging ornaments, Joanna Buchanan's collections bring together all the accessories that one can dream of.
For more information about Joanna Buchanan, please visit: www.joannabuchanan.com. In Switzerland, Joanna Buchanan's products are available at Queen's Five, website and store: Queen's Five, Postrasse 1, 8001 Zurich, +41 79 953 55 55