The Schwaabs are a family of passionate winemakers and their wines are the result of the experience of several generations. The family has a long tradition in viticulture. From 1695 until today, the Schwaab family has been continuously growing wine. Markus Schwaab represents the 10th generation in this family of winemakers. From St. Martin via Maikammer-Alsterweiler, his family settled in Kirrweiler in 1925. At that time, great-grandfather Johannes Schwaab, a winemaker and master cooper, handed over the "Schlössel" and the area around Marienburg to his only son Daniel. Following the transfer, the winery developed into an ultra-modern business while keeping true to its heritage and traditions, this is also reflected in the wines. Today, the hospitable vinotheque is open to wine lovers.
As a pure family business, we cultivate around 20 hectares of vineyards. Our vineyards are all in the heart of the German Wine Route, between the Palatinate wine metropolis of Neustadt and the garden city of Landau. Except in Kirrweiler, our vines grow in well-known locations such as Alsterweilerer Kapellenberg, Maikammerer Heiligenberg, Venninger Doktor, Edesheimer Rosengarten and Kirrweilerer Mandelberg.
Each grape variety is treated appropriately depending on its location or properties – in the vineyard as in the cellar. Our ready-to-drink cellar children differ in their individuality. From the uncomplicated estate wine in the liter bottle to award-winning quality wines to top-quality wines with a terroir – every Schwaab wine is a little personality.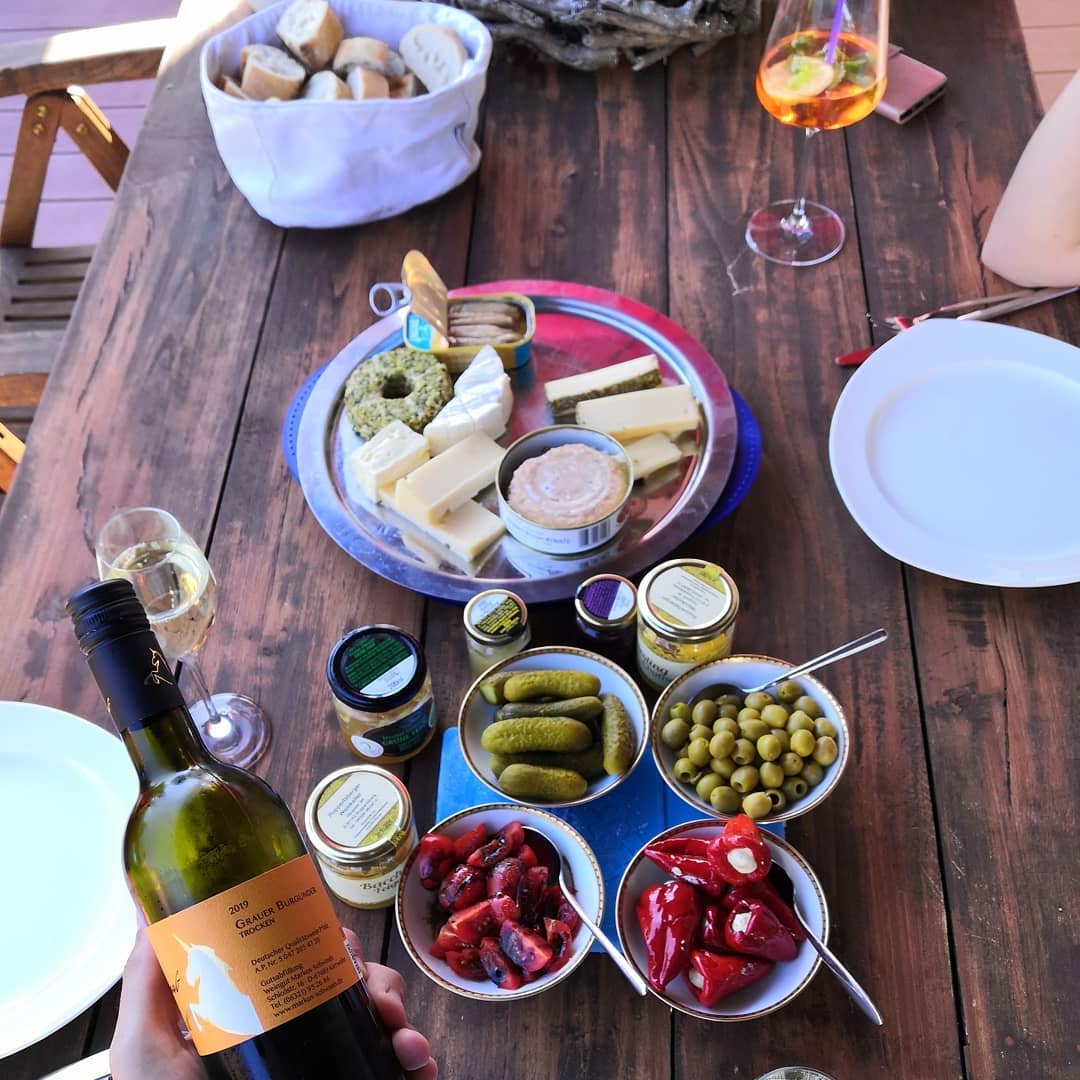 Our author on southern palatinate wines, Pascal (@don_pasqua), tasted a 2019 Grauburgunder trocken (Pinot Gris Dry), from Weingut Schwaab accompanied by a typical aperitif platter: a spicy Camembert, Appenzeller, country blossom cheese, a tomato pumpkin seed cream cheese, bratwurst, olives, stuffed peppers and sardines with fresh baguette… the perfect pairing for this Pinot Gris. A nice everyday drinking wine. Full-bodied, with aromas of yellow fruits and a subtle Burgundy signature. Price per litre: EUR 6.27. Contents: 0.75 litres, EUR 4.70 Alcohol: 13.0% vol. Contains sulphites.
Weingut Markus Schwaab
Schloßstr. 16
67489
Kirrweiler
Germany
| | |
| --- | --- |
| Monday | |
| Tuesday | |
| Wednesday | |
| Thursday | |
| Friday | |
| Saturday | |
| Sunday | |