Andreas Lugmayr and Raphael Holzer from Fernet Hunter, have teamed up to deliver us their newest creation: Bottled Cocktails!
Together with well-known producers from Austria, who support this project, and partners from the catering industry, Andreas and Raphael decided to not procrastinate, but to grab the deer by the antlers instead, and to offer their clients a unique taste experience.
Standard drinks? We already know that is not how they swing! The new ready-made drinks surprise and enchant with unusual, unique flavors. Of course, an important factor is the high quality of the ingredients. Andreas attaches great importance to this factor. And that, you can taste!
The idea was to create ready-to-drink cocktails that can be stored over a longer period of time, that are easy to prepare and affordable despite being of very high quality. And with this newest release, they want to once again showcase their creativity. It's being edgy that makes them different. Among the partners are these top Austrian producers:
Peter Affenzeller: with his excellent whisky, the gold of the Mühlviertel
Gölles-Manufaktur: with their Alfred vermouth and plum vinegar
Die Imkerei: known from 2Minutes 2Millions with their Gin & Honey
Fernet Hunter: the fine bitter from Brunnwald by Raphael Holzer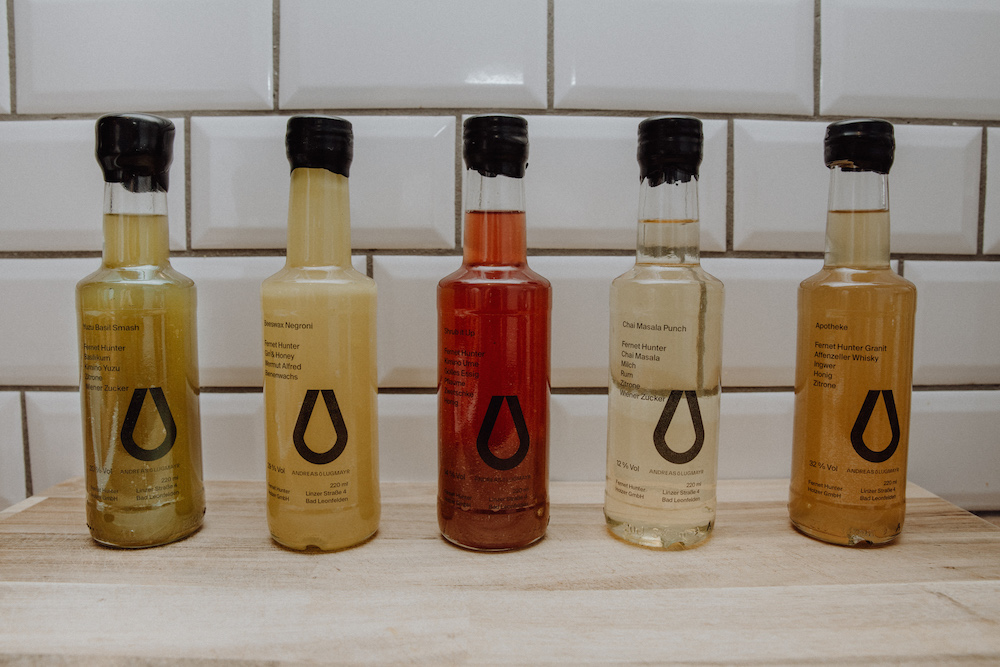 The drinks are available at www.andreaslugmayr.at and at selected partners in the catering industry who are already Andreas Lugmayr's partners and with whom he has a longstanding collaboration.
Linz
During lockdown, top chefs Sebastian and Marco from Rossbarth at Klammstrasse have quickly converted their fine dining restaurant into THE pizza pick-up hotspot in Linz. Best pizza in town in just three weeks!
The super likeable guys Eric and Nick with their bar Anderswo. Together with the restaurant Tamu Sana, they spoil you with unique healthy dishes from Asia and Africa and also deliver.
The always friendly Lisa from Café Fi:ka that is all about sushi & rolls, and everything lovers of Asian food may desire.
Freistadt
Foxi is a globetrotter and always exudes positive vibes. In his castle tavern, he enchants his guests with culinary delicacies from around the world.
Vienna
Markus with his newly opened restaurant Living Room near the congress center and the Prater convinces with fresh dishes that are prepared with a lot of love.
Discover Andreas Lugmayr's Fabulous Bottled Cocktails
Just what the doctor ordered: Apotheke. The best of Mühlviertel: a composition of Fernet Hunter Granit and Grain Whisky by Peter Affenzeller. Add self-righteous ginger honey syrup and a little acidity… et voila! Three drinks per bottle at the unbeatable price of only € 21.60. Take your prescription and run! You can thank us later.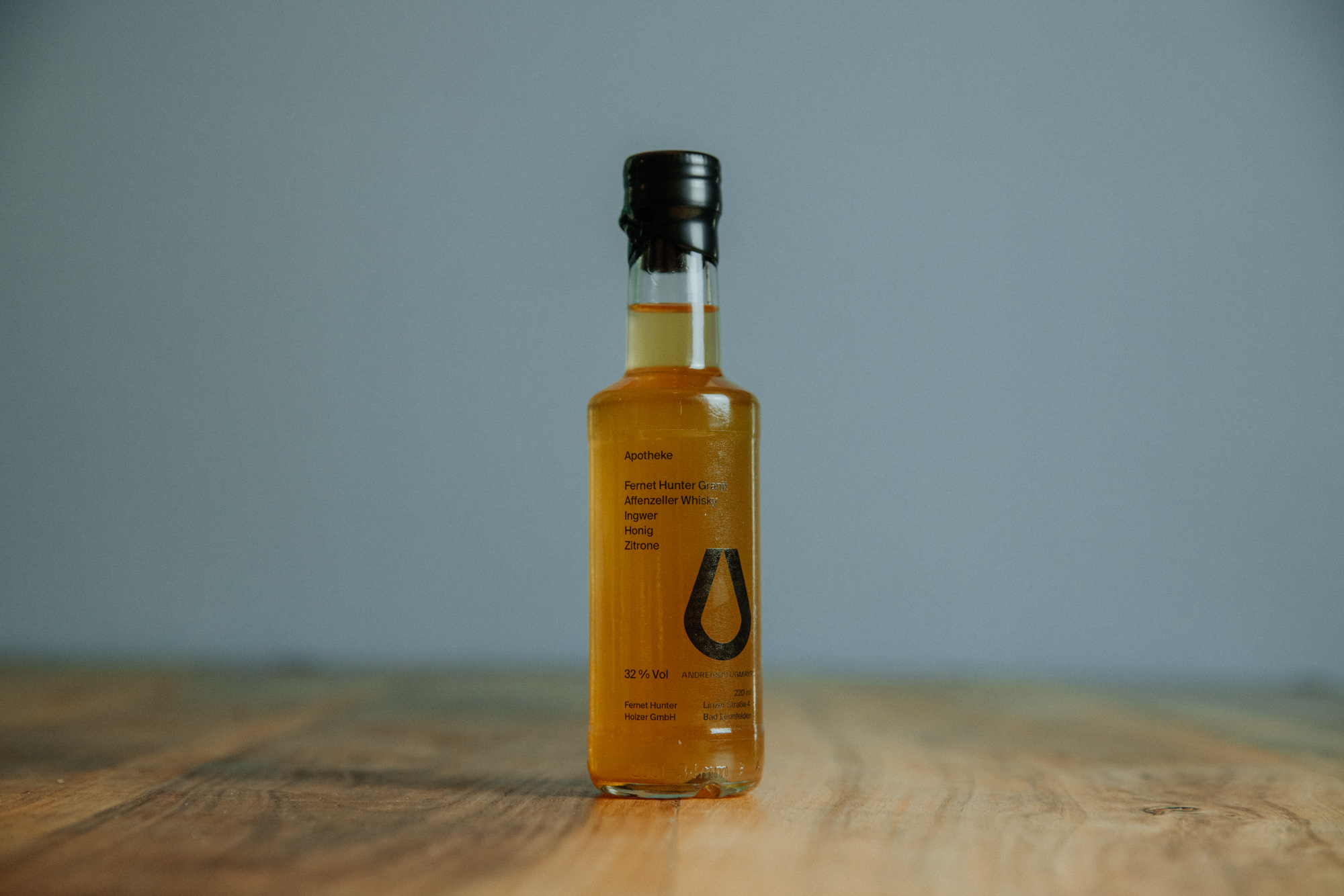 Yes, Andreas has been a busy bee lately. And Santa's little helpers are buzzing too! The bees at Die Imkerei produce the most delicious honey of which some is then transformed into Gin & Honey. Together with Fernet Hunter and Alfred vermouth from Gölles it is left to mature in a bottle that is covered in organic beeswax. The trick: the beeswax is poured in the bottle in liquid form, the bottle is turned to assure that its walls are uniformly covered with the precious wax, and then it is left to harden. Once the wax has solidified, the cocktail mix is poured in the bottle and left to mature. The result: a white Negroni with a difference! Three drinks per bottle. The Beeswax Negroni sells for € 21.60.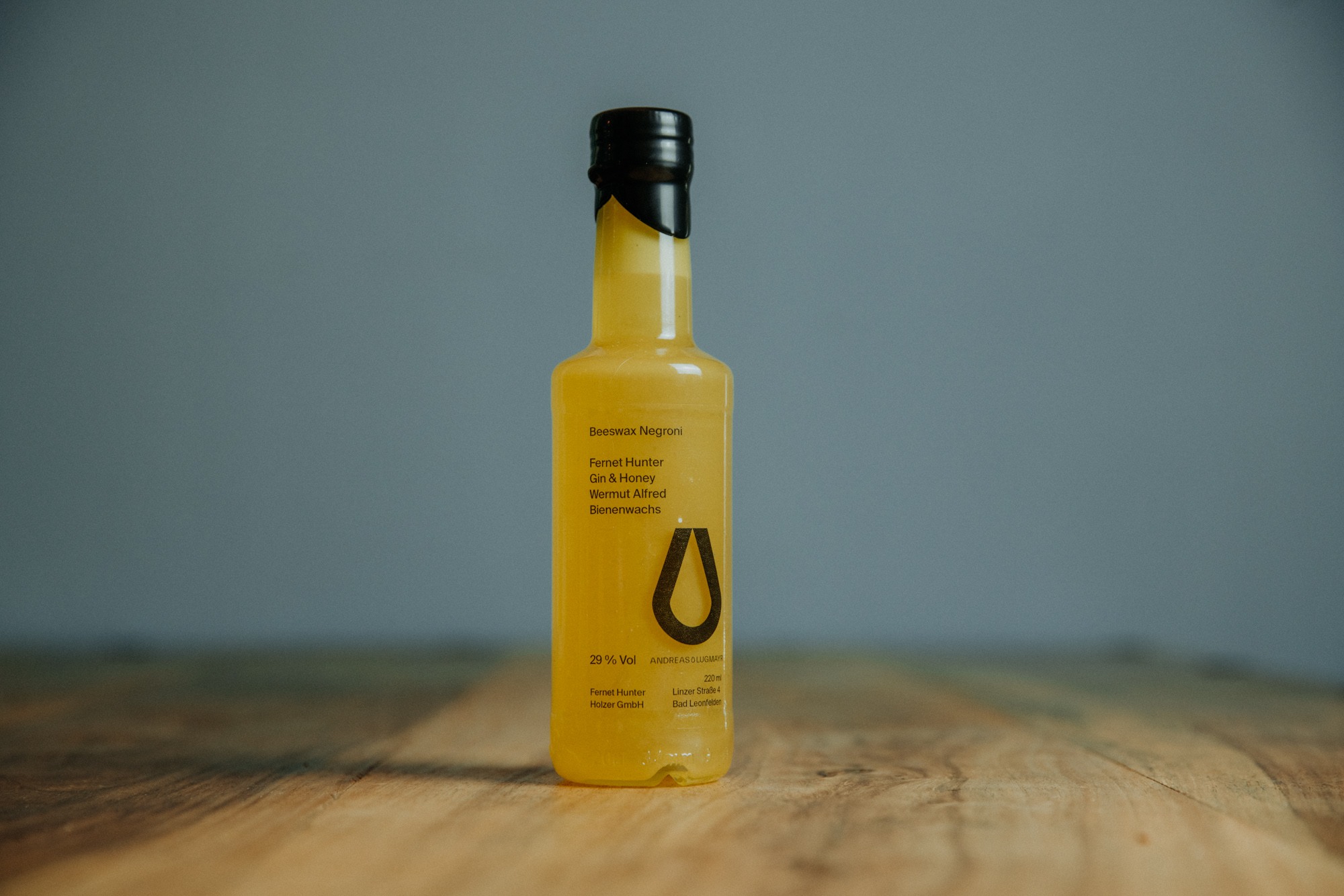 Tea, coffee, or mulled wine? Friends of festive flavors, look no further! Andreas offers a bottled Chai Masala Punch! It is a tea-based cocktail. Fine Indian spices give this drink its unique taste. The interplay with Fernet Hunter, dark rum, milk and lemon creates a fine punch that becomes clear through a special process. Are those reindeer's bells we hear jingle, or the coins in your wallet that you want to transform into a liquid delight? One bottle holds 2 drinks and costs € 14.40.
Bad day? Shake it off, Shrub it up! Lean back, pour yourself a drink and chill. Andreas made that ultra easy for you. This is where the saucepans come into play: prunes, plums, sugar and the excellent plum vinegar from Gölles are cooked into a shrub. Then, Fernet Hunter Granit sublimes the mix. All you have to do is add Kimino Ume to create a first class taste experience! Four drinks per bottle, if you top up with ½ bottle Ume each. Price: € 23.70 (incl. 2 bottles Kimino Ume).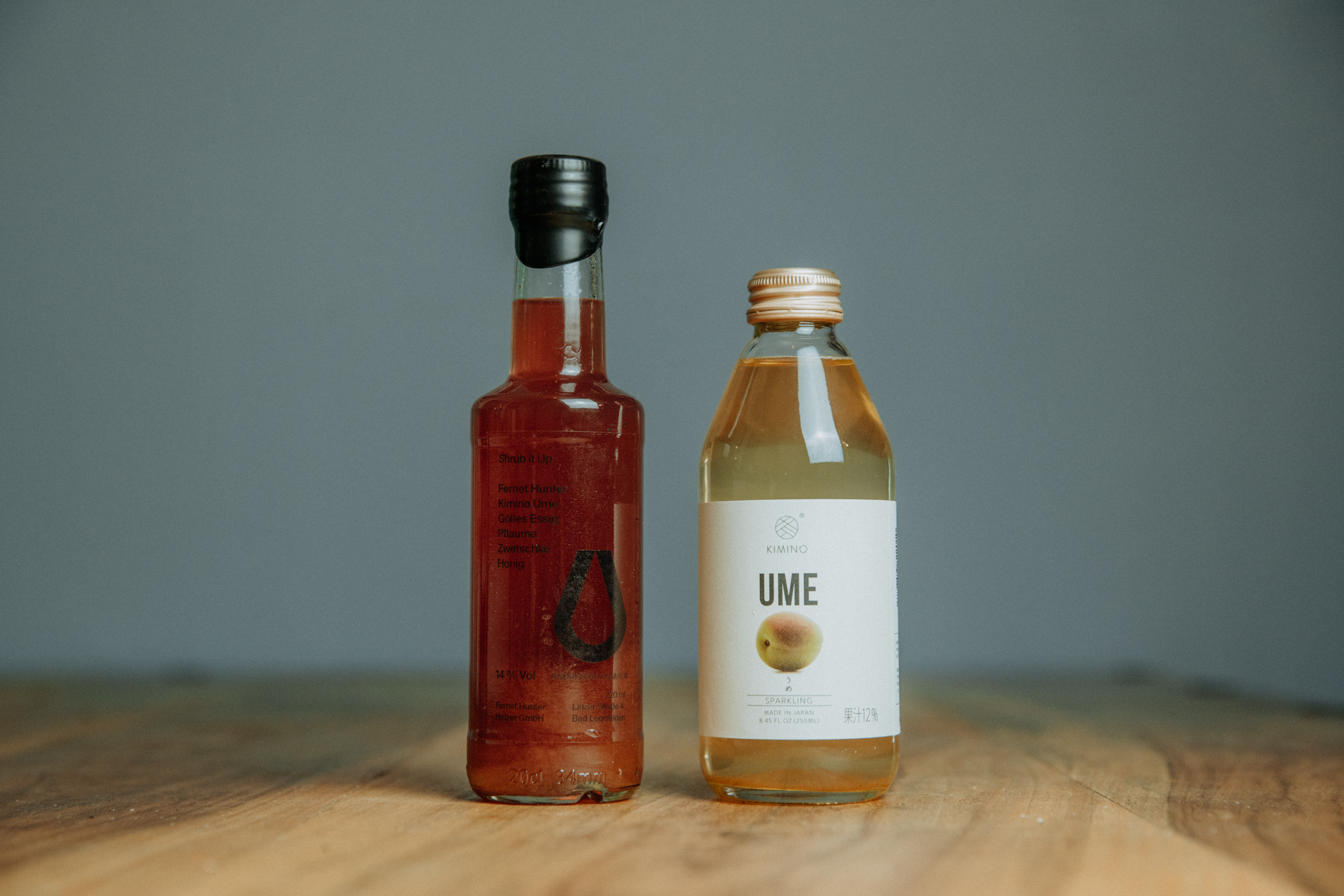 The Yuzu Basil Smash is the fifth addition to the family of Andreas Lugmayr's bottled drinks. A refreshing basil-based mix comprising homemade basil syrup, lemon and Fernet Hunter. Add to that Kimino Yuzu and you get a very refreshing cocktail that is ready to drink in no time! Four drinks per bottle if you top up with ½ bottle Kimino Yuzu each. Price: € 23.70, including 2 bottles Kimino Yuzu.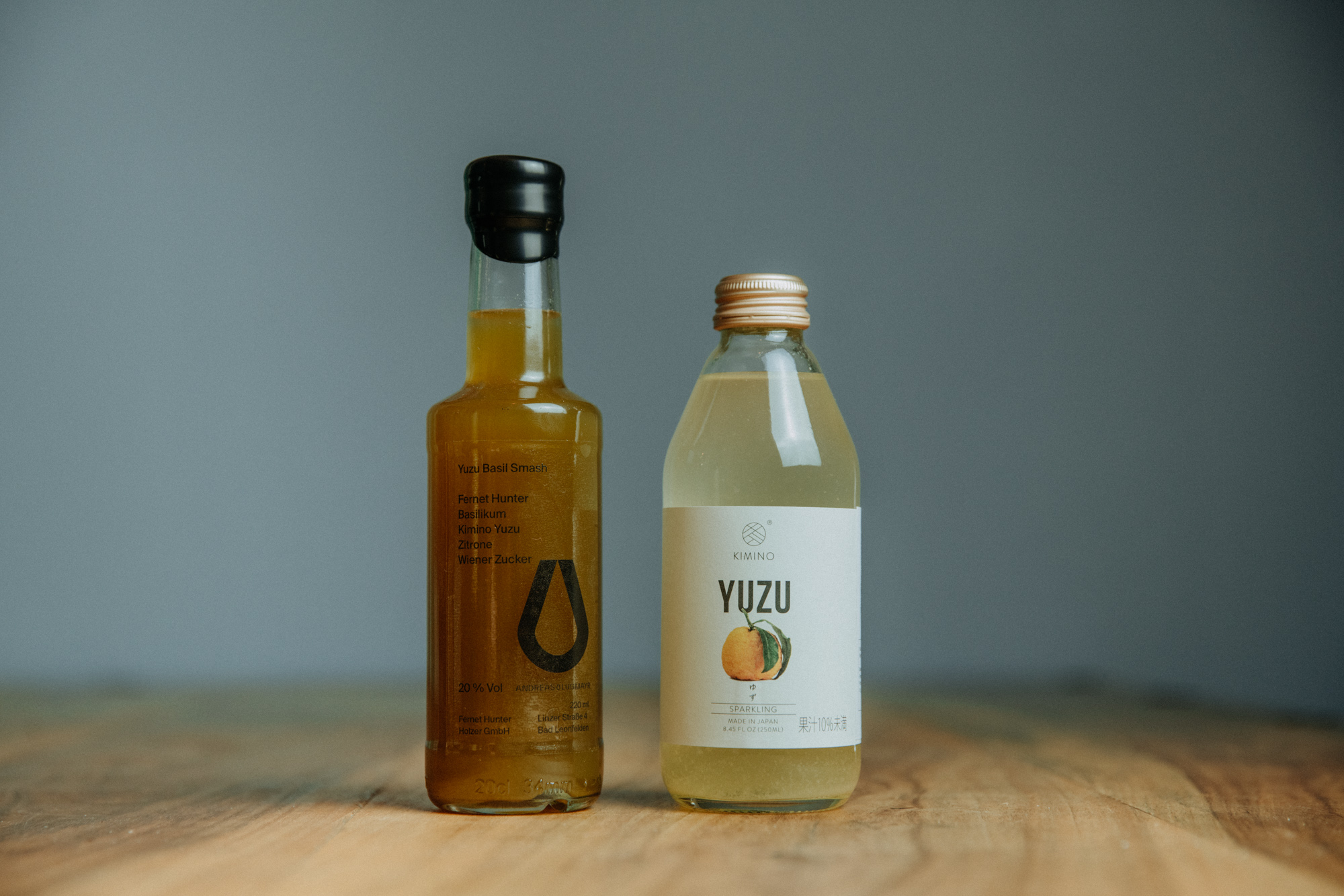 Rien ne va plus! All in or nothing!! 16 bottled drinks in a huge package for € 98 instead of € 105. Basically all of the above in a mixed box, there is something for everyone. Limited numbers available. Get it now, before they are going, going, gone!!
Instructions for preparing the drinks as well what to do with the postcard included in the delivery are revealed by following the QR code that is printed on the postcard. Just scan it in and you will have the key to the sesame!
If you do purchase bottled drinks or other products from Andreas Lugmayr, don't forget to tag @andreaslugmayr and insert the hashtag #andreaslugmayr in your posts when you share something online. Like that, we won't miss any of your communications and can share them!
Have fun creating and sipping!