The nicest surprise you can put in a gin lover's Easter basket? Some really good juniper spirit, of course! Austria has a lot to offer in this domain: there are currently over 150 local gin producers! For all the Easter bunnies out there who are still looking for a gift, here are three of the best that we can recommend:
1. Gin & Honey, producer "Die Imkerei", Wels in Upper Austria
2. Sail Gin, producer purest OG in Vienna
3. Sauguata Gin, producer RSB Spirituosenerzeugungs OG, Vienna
As different as they may be, what all three have in common is that they are handcrafted with love and passion by local small businesses with ingredients of the highest quality. And that, you can taste, of course! What better occasion to discover this exquisite TriÖ than now?
Gin & Honey, 0,5l, € 38,95 incl. VAT, plus shipping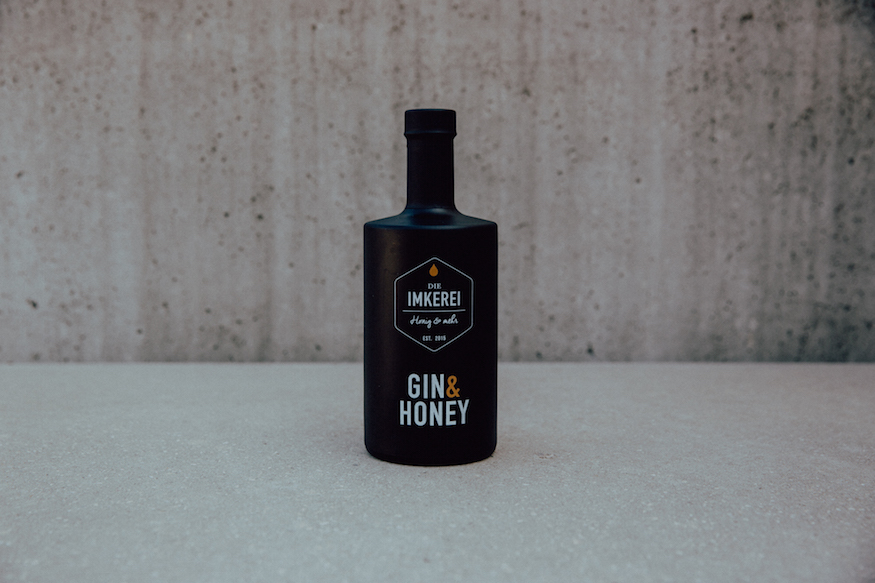 In 2015 Florian Peterstorfer from Upper Austria gave up his job as a sales expert and immersed himself in the world of bees. After his apprenticeship as a beekeeper, he founded his own company DIE IMKEREI in 2018. In April 2020, Florian's participation in the PULS4 start-up show "2 Minuten 2 Millionen" was a milestone in the young entrepreneur's career.
Florian currently has around 140 bee colonies that provide the raw material for honey and more. The product range is diverse and extensive: multi-award-winning organic honey, dietary supplement capsules made from beebread and propolis, award-winning mead and honey gin… Traditional beekeeping + creative product innovations + bee protection = DIE IMKEREI – a future-oriented and sustainable young company!
Gin & Honey is a handcrafted London Dry gin with a pronounced juniper note. Other botanicals such as coriander and rosemary add a strong flavor. The freshness of dried lemon peel and fine aromas of Austrian organic forest honey form a harmonious ensemble with a drinking strength of 40% VOL. Available in Austria via Andreas Lugmayr.
purest sail Gin, o,5l, € 34,00 incl. VAT, plus shipping
Three friends, a sailing trip and a crazy idea: what if , with purest, we create a gin that is the expression of the feeling only being on the water can convey – Pura vida! Friendship, shared passion and moments full of joie de vivre, in the purest liquid form… Sail Gin.
Purest Sail Gin is sun-kissed and tastes of freedom, friendship and adventure. It is an organic craft gin that contains only the purest Austrian spring water and botanicals. It tastes fresh, fruity and offers an explosion of fabulous citrus notes. We discern a pronounced juniper signature, as well as aromas of cucumber, rosemary, pepper, green apple and mint… every sip is a short trip to the Mediterranean. A lively, balanced composition that recently earned Sail Gin 91 points from Falstaff Magazine!
Sail Gin tastes of adventure and days spent on the water. In addition, it comes in a bottle of purist design with remarkable details: filled and labeled by hand, each bottle bears individual coordinates. Sealed with real cork, a wooden cap and a piece of hand-knotted hemp rope… a wonderful gift for gin lovers and sailing aficionados alike.
Sauguata Gin, 0,7l, € 39,90 inkl. MwSt., zzgl. Versandkosten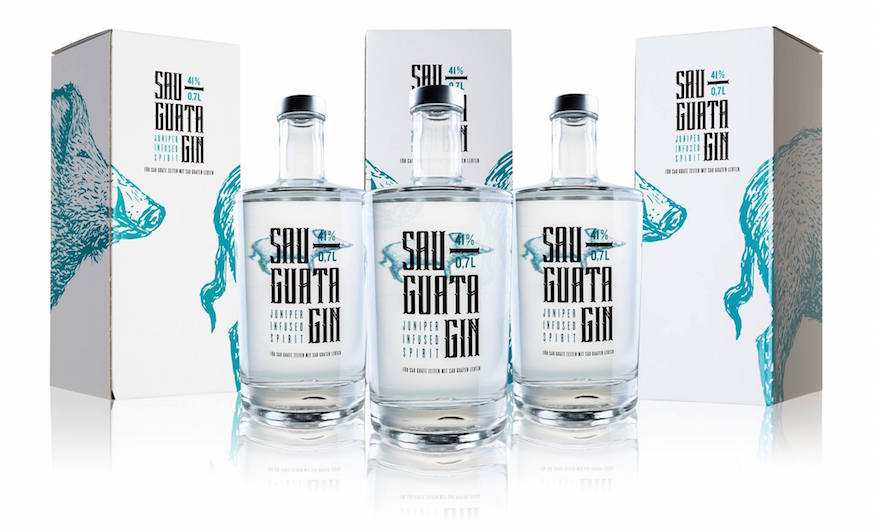 Sauguata Gin is produced by RSB Spirituosengenerations OG. The Vienna-based company was founded by Gin & Tonic enthusiasts Klaus Burka & Friends. Together they wanted to go "back to the roots" and create a real London Dry Gin, with an accentuated juniper signature and classic botanicals such as lemongrass, mandarin peel, cinnamon and ginger.
Nomen est omen with this gin! Sauguata Gin not only tastes fabulous, it also received quite a lot of awards already: ÖGZ, the Austrian specialist magazine for the hotel industry, named Sauguata Gin the winner of their comparative tasting 2019, in Spain, Sauguata Gin also received a gold medal at the Catavinum competition and 93 points from Falstaff magazine in 2019. At the World Spirits Award 2020, Sauguata Gin achieved the gold medal with 93.3 WOB points out of around 85 different gin samples.
Sauguata Gin comes in elaborate packaging. The outer box is beautifully designed and shows the brand's spirit animal. The inner wrapping is blue as well. When you receive such a gin, you know it is a gift!