Mario Nestlehner loves mixing great cocktails and tinkering with new recipes. A passion that he made his profession: he has been an hospitality professional and working in cocktail bars for over ten years. Originally from Bavaria, now a resident of Salzburg in Austria, Mario travelled the world. It was his first trip to Southeast Asia that inspired the creation of Bambam.
Bamboo is a wonderful material that grows abundantly there. It is used in many different ways: for construction as well as everyday items. His bartender mind started to wonder: could this be made into a shaker, too?
Following a time of testing and trying, he held the first Original Bamboo Shaker in his hands. Since July 2019, Bambam stands for high quality barware made of bamboo. The small enterprise distributes the world´s first bamboo cocktail shaker, as well as TIKI muddlers, volcano cups, serving trays, drinking straws, unique stirrers, as well as organic cocktail bitters with bamboo taste.
The products are designed by Mario, handmade in Vietnam and 100% sustainable.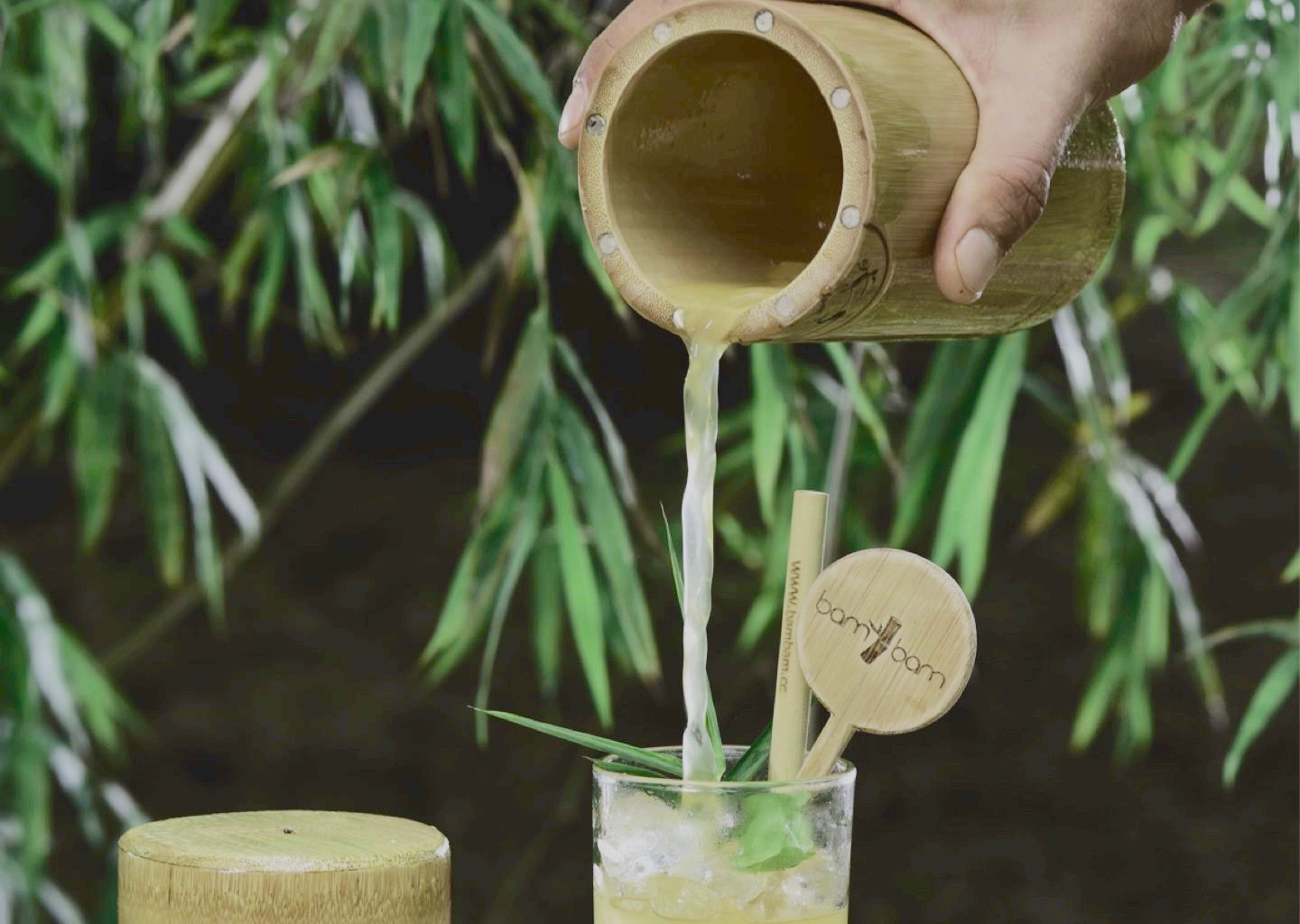 Bambam: Natural and eco-friendly Bamboo and Coconut barware
Why waste valuable natural resources if you can create something unique and special with them? Bamboo and Coconut have been used in different ways for centuries. In many cultures, they simply are an essential in the kitchen – for food or cooking. Beautiful, useful, and respecting of the environment, these natural materials can be transformed into every day items.
Spoons, plates, and – Bim bam boom – gorgeous Bambam barware! Yes, the hospitality industry, and by extension restaurants and bars, is where rethinking the entire process of procuring, processing, and presenting food and beverages is an absolute necessity.
Our planet sends signals that nobody can ignore anymore. We have exploited her, polluted her, and stripped her of her resources. While all she does, is give, and abundantly.
Look at bamboo, for example. It is one of the oldest building materials in the history of mankind. Hard and robust on the one hand, yet light and flexible on the other, its specific cell structure makes it extremely resistant and resilient.
Bamboo is a type of grass that grows extremely fast: up to one meter a day if the climate is favorable! New plants are constantly growing from the large root systems. When a bamboo cane is harvested, the plant as a whole doesn't perish. Moreover, Bamboo binds CO2 and stores it in its biomass. Because of its many benefits, it is a great resource that merits being highlighted.
And that, Bambam does! When barkeepers go jiggy with the shakers, all eyes are on them.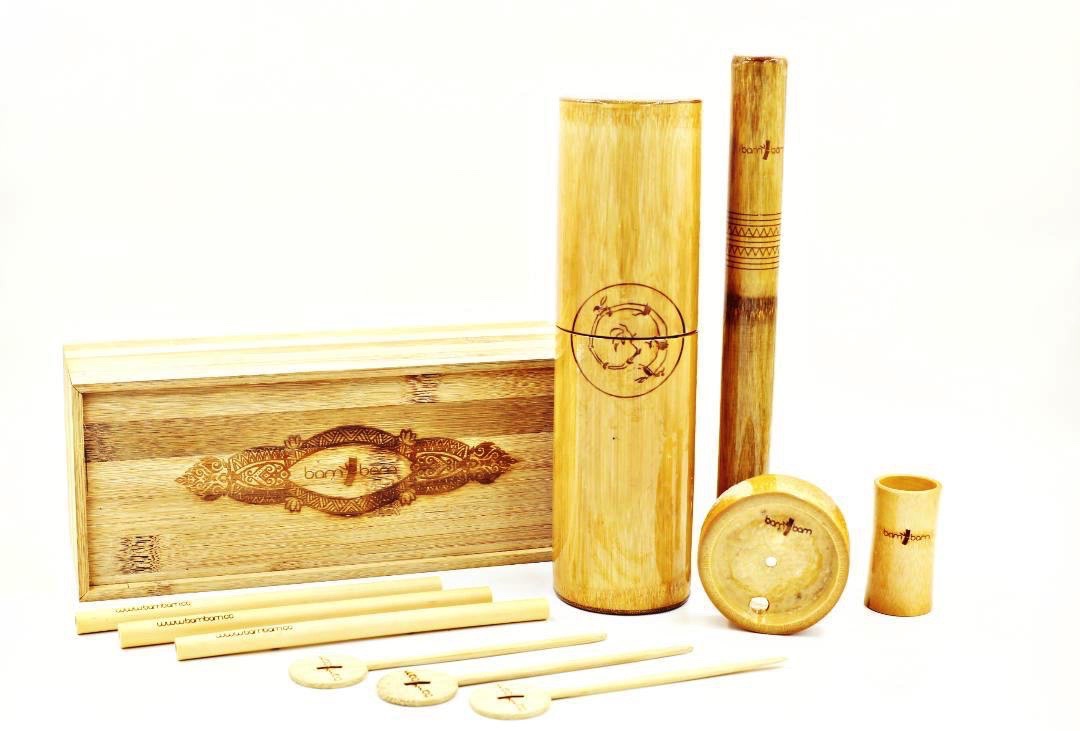 The tubes of the beautiful Bambam Bamboo Shakers are made of "Phyllostachys edulis", or "Moso-Bamboo". The material is sourced from China, where it is harvested when it is between ten and fifteen years old. Stocks are never endangered because bamboo grows so fast. In addition, bamboo is predominantly cultivated by smallholders and thus not particularly industrialized. The raw material is therefore not only sustainable, but also climate-neutral – and thus completely ecological. In addition, it is little bit quieter than conventional shakers and thus facilitates communication between bartenders and guests. The sound of bamboo is unique! With Bambam, you receive sustainable and innovative barware that you can use with good conscience!
How does it work?
The magnetic closure system makes it incredibly smooth to bring the two cups together and release them. This saves the professional valuable seconds in the daily workflow. But even for those who are not so experienced, the closure makes handling much easier. A high-tech coating made of food-safe resin prevents liquids from leaking. It protects the bamboo from aggressive liquids and mould, thus guaranteeing a long service life of the shaker. The coating is suitable for direct contact with food and has been successfully tested by LVA Austria. The coating also ensures that it is incredibly easy to clean the shaker. Liquids drip off immediately and it is sufficient to rinse both cups with water. After use, all you need to do is clean the shaker manually with lukewarm water and normal dish soap, rinse again with water and dry it afterwards.
The Bamboo Shaker is manufactured in a workshop in Vietnam; the entire production is carried out exclusively by local companies. Each shaker is unique, because no two bamboo canes are the same. With the purchase of a Bamboo Shaker you acquire a thoroughly sustainable natural product. And you help a small local business to thrive!
Bambam Bamboo Bitters: xMas Perfect Gift Idea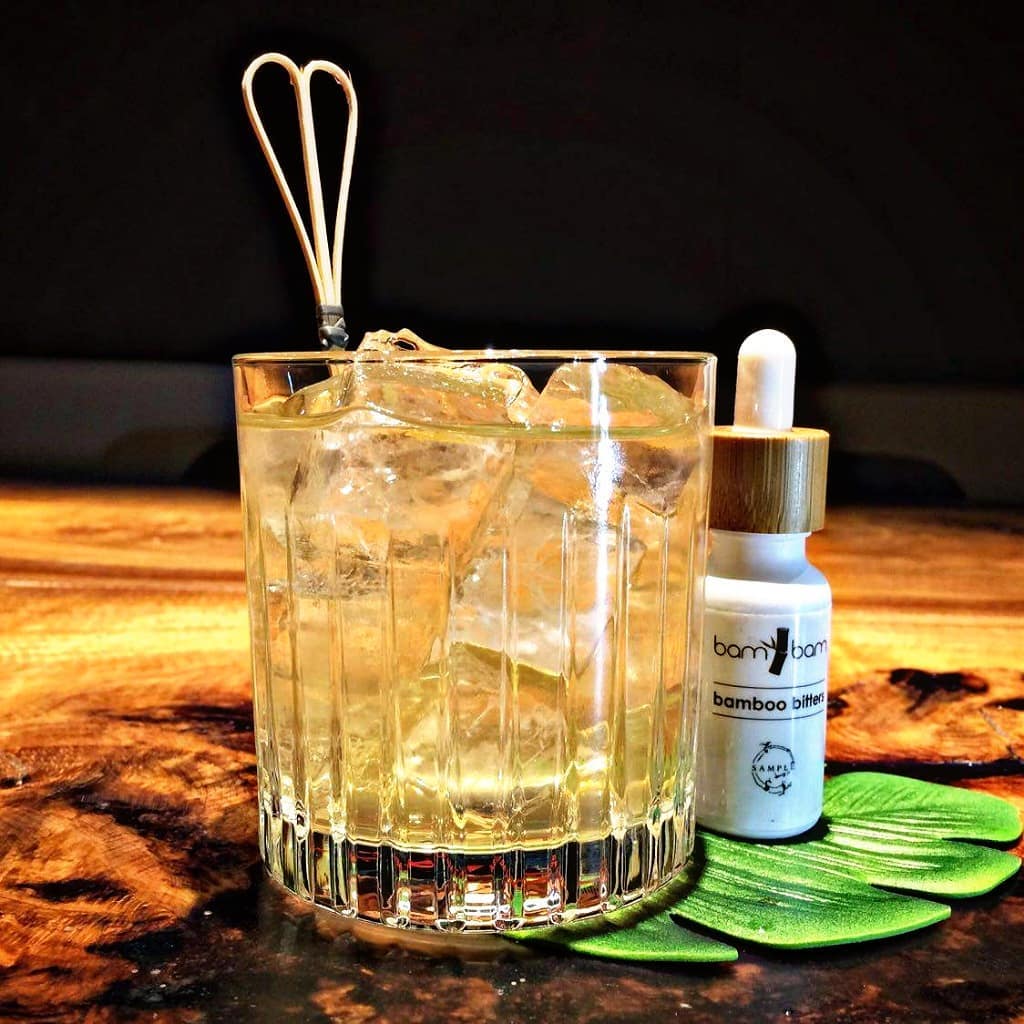 A small dash makes all the difference… Bitters are called the third dimension of cocktail mixing, not without reason. While sweet and sour tastes are quite common in foods, bitter tastes are rare. But this bitter aroma is often the icing on the cake that puts the finishing touches on a cocktail.
Bambam Bamboo Bitters consist of three main components: bamboo shoots, the wormwood (=Artemisia annua annamed), and linseed. The artemisinin contained in the plant has long been valued by traditional Chinese medicine for the treatment of a wide spectrum of conditions and diseases.
And of course, all ingredients are certified organic, sourced from sustainable cultivation. This also applies to the neutral alcohol used, as the water used to reduce the alcohol content comes from a well in Austria's "Mostviertel" region.
After an intensive process of tasting and seasoning, Bambam have succeeded in turning the Bamboo Bitters into balanced recipes that convince with a fine, tart bamboo note. Original Photo and Blogpost by Lauris Mauro here >>>