Zurich bars join forces with Mikks and deliver drinks to your doorstep. Your next Skypero is safe!! …if you live in Zurich, at least.
Mikks is a small, Zurich based beverage manufacturer. Together with selected local bars, they want to continue service during the Corona Crisis. Cheers to that!
Even though we are not able to meet with friends at our local bar, toasting together with our favorite drink remains possible thanks to the new service.
Socializing during social distancing is a challenge but many have taken to Skype & Co. to still see their family and friends while having a tipple. Separated but together is the credo for many an afterwork during these difficult times, #stayhome the mantra in every social network.
Many hotels, restaurants, and bars had to close and face an uncertain future. Hospitality is one of the industries that are hit the hardest by the consequences of the pandemic. Several will not survive this crisis.
But the sector is also one where SUPPORT is written with a capital S, and so it comes as no surprise that several creative minds put their heads together in order to find synergies and new concepts. #Cheerstosupport is one!
People living in Zurich can have a drink from their favorite bar delivered at home. Orders are taken until Thursday evening. Then, the cocktails are mixed with sterile glass shakers and delivered on Friday between 2 p.m. and 5 p.m. All you have to do then is add ice, shale, and the party can begin!
Connect to www.cheerstosupport.ch on Friday, April 3, 2020, at 6 p.m. and join the community for an afterwork toast!
Step-by-Step to your favourite Cocktail
Select: Choose a cocktail from your favorite bar and the bartenders prepare everything in the sterile glass shakers.
Wait: Order deadline until Thursday 10:00 p.m. Delivery on Friday between 2 p.m. and 5 p.m. in the mailbox or on the doorstep, without personal contact.
Enjoy: The cocktails are delivered to your home in the glasses with lids – all you have to do is add ice, shake, and you're done.
Help: Mikks not only supports Zurich bars but also donates CHF 1 to Mare Liberum with every drink purchased via the website cheerstosupport.ch.
Participating Bars in Zurich
Bar Sacchi: The Sacchi quickly became one of the trendiest bars in Zurich and a new socializing hotspot in the booming Lochergut. Thanks to an excellent drinks menu, but also thanks to owner Claudio Sacchi, an excellent host! Bar Sacchi offers you their Hausnegroni (CHF 15.00) and Negroni Boulevardier (CHF 15.00) via cheerstosupport.ch.
Barista Corado Zurigo: a barista catering service that brings real Italian coffee enjoyment to your event – or to your doorstep! The brothers Michael & Patrizio Minutillo normally take their mobile "caffèbar" from event to event and ensure a good dose of "italianità". During Corona lockdown, you can order their Espresso Martini (CHF 15.00) and "Barista Blend" coffee beans (CHF 12.00).
Kasheme: this bar is all about music. Listening sessions by selected DJs and musicians can be enjoyed in the cozy living room, or you can browse and buy music in the integrated record store. In addition to this, the bar range with classic and signature drinks is another highlight for the eye and the palate. Thanks to the new initiative you can enjoy the lively hospitality that normally reins at Kasheme in the comfort of your own home! Simply order their Light my Fire (CHF 15.00) or Purple Haze (CHF 15.00).
Vagabundo: one of the trendiest cafes / bars in the heart of Zurich, with a select range of refreshments for adventurers and entrepreneurs. From fine coffee to antipasti, via an aperitif or cocktail, accompanied by music from young and emerging DJ's from the city… the Vagabundo seduces with a smart and charming bar crew. They propose their Saffron Savage (CHF 15.00), Amaretto Sour (CHF 15.00) and, in bottle format, the Vagabundo Negroni (CHF 49.00).
Nude: a new bar by Sheila Lopardo and Yann Gurtner. It offers a fine selection of coffee, homemade lemonades, drinks, and dishes. The hotspot is located directly at the Limmat, with many sunny outdoor spaces and a spacious foyer that invites you to lounge there on cooler days. During the lockdown, you can order their Blue Fly (CHF 15.00), Espresso Martini (CHF 15.00) or a Support Voucher for CHF 15.00 right here >>>
Mikks: you can also order the delicious Mikks cocktails for home delivery. Choose among Basil Mikks, Chili-Lemon Mikks, Ginger Mikks, Passion Mikks, Rhubarb Mikks, and Yuzu Mikks, all for CHF 15.00 each.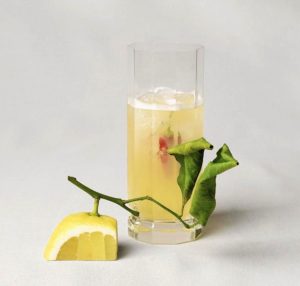 If a cocktail is not enough for you, you can also order whole Mikks bottles or sets with spirits. Several other drinks partners also offer home delivery via www.cheerstosupport.ch: Deux Frères, Paul Blume Wein, Edition Maison Standard, and Smith & Smith Wine Company to name just a few.
Let's all support our local bars and keep bar culture alive! And help those the most in need in the process. This crisis is hard for everyone but it is also an opportunity for all of us to make the world a better place. We have to live in the NOW and act for the future. Cheers, and thanks for your support!