One day in summer, a good number of Vienna's best bartenders gathered at the beautiful Hotel Bristol.
The renowned cognac house Courvoisier had invited to a special cocktail workshop. This time, the focus of attention was neither a particular filling nor practicing certain cocktail skills. No, this workshop was about an object that can probably be found in all cocktail bars and in various designs: the bar menu.
The bar menu is a sales instrument, business card, signpost and sometimes an object of art all in one. It should be designed to be informative, technically correct and error-free, but also appealing and enticing for guests to order a new cocktail.
And yet, even in the best bars, the cocktail menu is often a mere listing of names and ingredients that say very little about the taste of the creations. Which raises the question: are lengthy explanations with complicated and sophisticated formulations really the key to success?
Think outside the box!
A bar menu entirely without words? Impossible, many would say in a first impulse. But Rémy's demonstration got the expert audience thinking. Because the crucial question is how to touch guests' emotions without the conventional methods described above. For Rémy, it does not even need the famous "out of the box thinking"; his goal is to simply make the box bigger.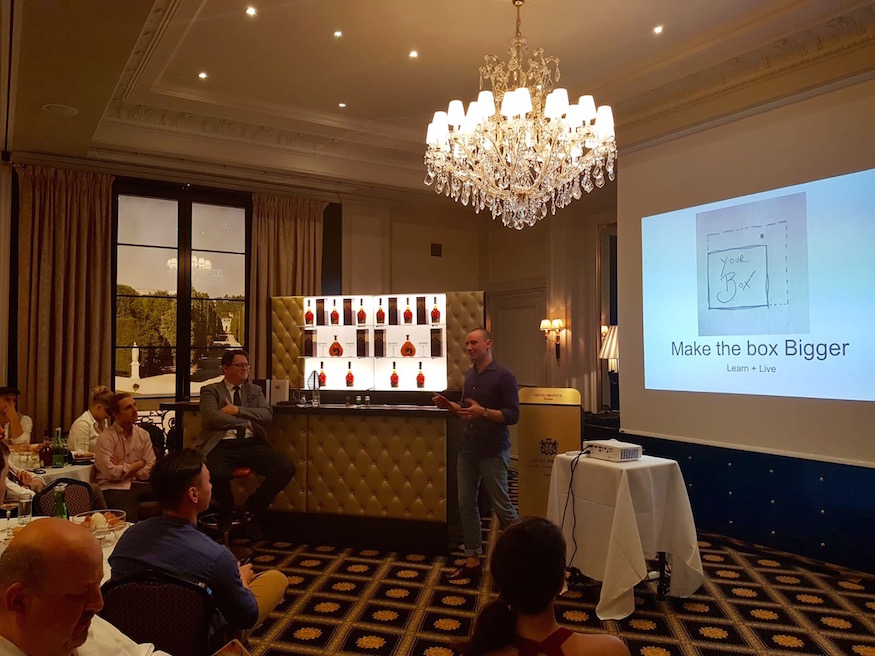 In the picture above, you can see Rémy Savage explaining his concept of the "bar menu without words". But of course, such a transition does not happen overnight. The sympathetic Frenchman, who was named the best mixologist in Europe in 2018, is very experienced in offering his guests something special.
The legendary Artesian Bar in London usually reinterprets cocktail classics, largely renouncing elaborate gadgets, decorations and so on. Their energy rather goes into the presentation and evoking an emotional response in their guests. Specially designed pictures are intended to awaken emotions.
Some consider his creation of the "minimalist menu" almost radical as it comes ostensibly without words. Each page contains only one image that is supposed to trigger a certain emotion and raise curiosity. Artists representing different styles have specially designed each of the pictures it contains. The artists simply tasted a cocktail and then tried to visualize the emotion they felt.
And that is exactly what Rémy Savage wants: to encourage his guests to think about what taste each picture represents. And indeed, this kind of new bar menu works because many guests are led to order a cocktail without prejudice against, say, an ingredient ("I do not like mezcal!"). On the other hand, ingredients that are unknown to guests become less of an obstacle to ordering a certain creation.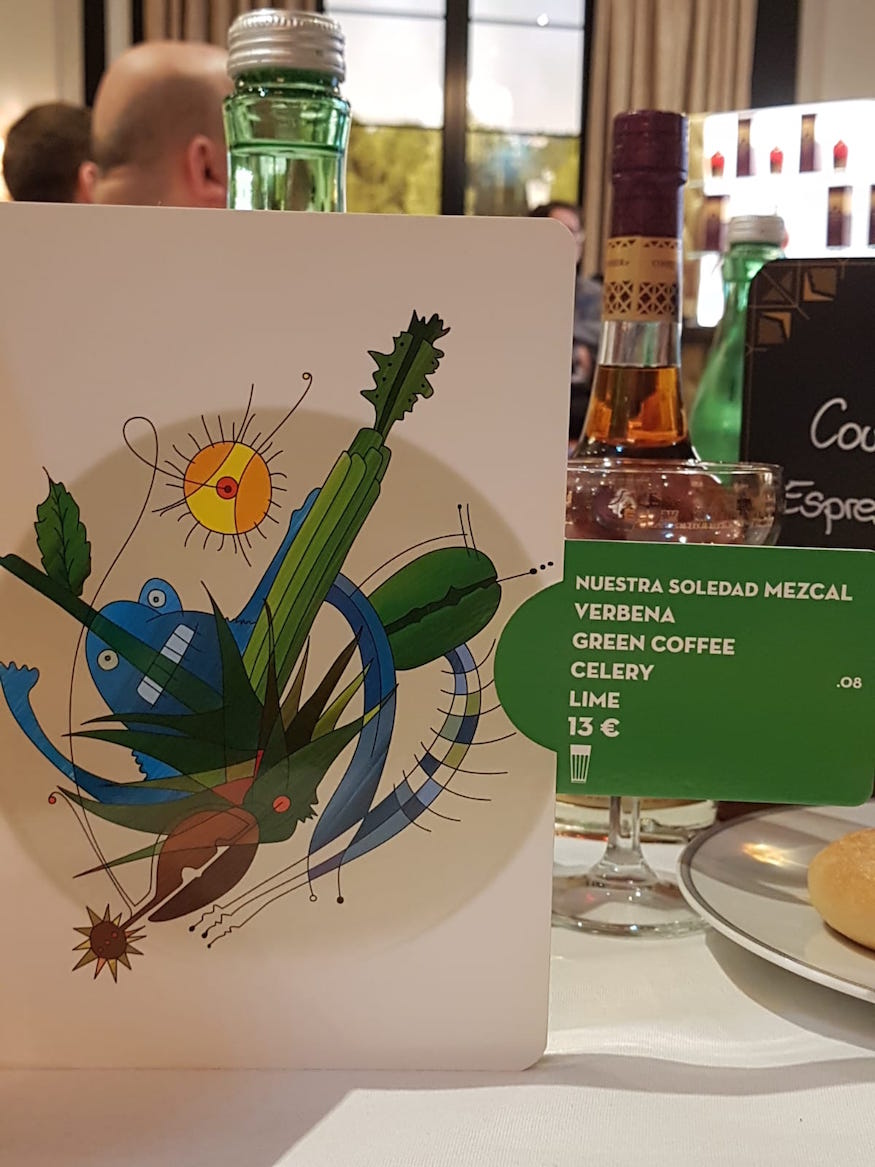 Of course, if someone really wants to know what is in their cocktail before ordering, they can find out. On each page, at the side, there is a small card that can be pulled out and on which the ingredients are listed. This is a revolutionary idea that proves that you can convey the right message without many words.
As for the ingredients in his cocktails, Rémy Savage swears by quality products. In the subsequent workshop, he presented some creations that revolved around the combination of coffee and cognac. Coffee in the bar is a hot topic. Classic American bars often do not feature coffee in their program because the cocktail and the spirit are in the foreground.
However, coffee is a not-to-be-ignored trend that has been part of the lifestyle of many generations. Why not include coffee in the cocktail portfolio? The idea is of course not entirely new. As early as 1983, legendary bartender Dick Bradsell combined vodka with kahlúa and espresso to create an "Espresso Martini".
Rémy Savage uses Courvoisier VSOP with coffee liqueur, espresso and some sugar syrup to harmoniously blend the taste components of cognac and coffee.
Courvoisier Espresso Martini
35 ml Courvoisier VSOP
15 ml coffee liqueur
30 ml espresso (chilled)
10 ml sugar syrup
Preparation
Fill a shaker with the ingredients above in the order they are listed. Add ice and shake vigorously in a metallic blender jar for 8 seconds. Then, strain the mixture into a glass. Garnish with three coffee beans and a touch of chocolate.
Do you like it a little more complex? To conclude, we quote Rémy Savage with his version of a cocktail with green coffee: "Courvoisier VSOP & Green Coffee" (Rémy Savage, Artesian Bar, London).
Unroasted Ethiopian Werka coffee beans brewed for six hours under vacuum with Courvoisier VSOP at room temperature. Then filtered and distilled. The result is a clear liquid with perfectly harmonious, subtly floral flavors between coffee and the bright peach tones of the Courvoisier VSOP.