An ideal gift for any lover of fabulous spirits: the tasting box by Distillery Rogner. Four 0.2 l minis to allow you to explore a selection of fine craft spirits from Austria's Waldviertel: Whisky 3/3,  Gin For My Queen, Hermano – barrel aged rum, and Coffee whiskey liqueur.
For a chance to win this gift, like this post and tell us in the comment box who you would invite for a tasting of these fine spirits by the fireside. The giveaway is intended for persons of legal drinking age and limited to Austria. It runs until 24.12.20 across all our digital channels. The winner will be determined by lucky draw on Boxing Day. Good luck to all the participants!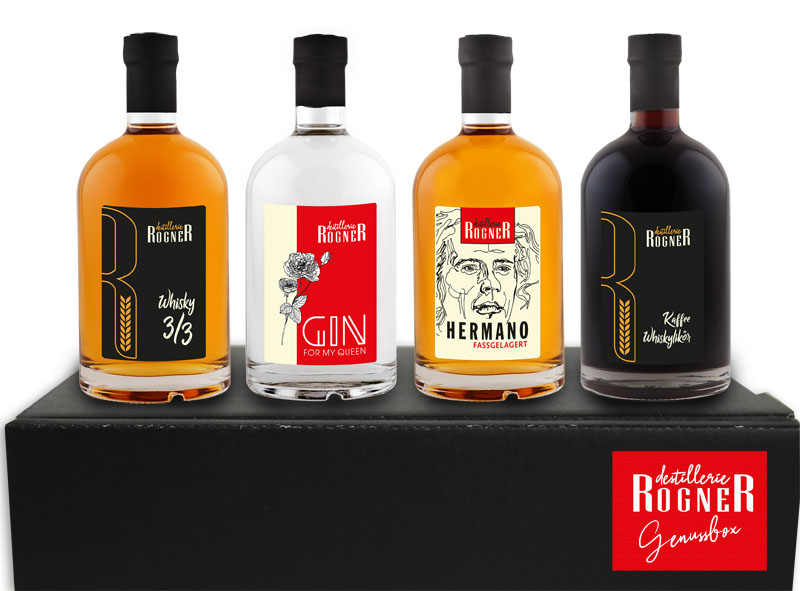 Whisky 3/3 is made from a distillate of rye, wheat and barley that has been matured in oak barrels over many years. This characterful whisky boasts potent barrel notes and complex wood aromas as well as notes of dark chocolate, caramel and dried fruit.
Gin for my Queen is a very strong aromatic gin. Originally created in 2016 as "Gin for the Queen" in collaboration with the Austro-British Society, this limited edition crafted from 26 selected ingredients was presented as a gift for Queen Elisabeth II's 90th birthday by the Austrian ambassador. Upon popular request, it was reissued in 2019 and the name changed to "Gin for my Queen".
Hermano Rum, barrel aged is mellow, balanced and slightly fruity with a signature note of caramel and vanilla. It is aged in barrels that the distillery formerly used for whiskey and sweet wine.
Coffee whiskey liqueur is a combination of strong coffee and a touch of whisky. Pure, on ice or in desserts… It is the perfect way to end a good meal.