Domaines Ott: One day in 1896, Marcel Ott, a young agricultural engineer from Alsace travels through several French wine-growing regions and when he arrives in Provence he knows: here is where he wants to settle. He acquires a vineyard in the department of Var, in Cavalaire-sur-Mer, a village on the Côte d'Azur.
Phylloxera had devastated the region here; the new wines that were grown in a rush were unattractive. Marcel Ott had the ambition to revive the ancient tradition of viticulture in Provence. He wanted to plant noble grapes and produce wines of premium quality. By doing so, he managed to turn his estate Domaines Ott into the leading producer of rosé wines in Provence.
His descendants shared the same passion and dedication. Over the years, his family acquired three estates, of which each has its own distinctive characteristics, charm, and personality: the austerity of Château de Selle, where Syrah and Cabernet Sauvignon are grown, the exoticism of Clos Mireille, where the predominant grapes are Semillon, Rolle, and Grenache, and the grandeur of Château Romassan, with grape varieties such as Mourvèdre, Grenache and Cinsault.
At Château de Selle grow the grapes for Domaines Ott sovereign Rosé wine Coeur de Grain and the Vieux Marc de Rosé, which is stored in oak barrels for six years before it is bottled. From Clos Mireille comes the Blanc de Blancs. Well-matured, this characterful white wine boasts aromas of stone fruit, spices, and wildflowers. The grapes for Domaines Ott Rouge AOC Bandol come from Château Romassan and deliver a full-bodied, aromatic wine.
"BY OTT" is an offshoot of Domaines Ott. This designation regroups a family of wines from Côtes de Provence that do not quite meet the quality standards of Domaines Ott but are still worth recommending.
In 2004, Domaines Ott merged with the renowned Champagne Louis Roederer Group. Today, Christian and Jean-François Ott continue the family's tradition of making noble Provençal wines.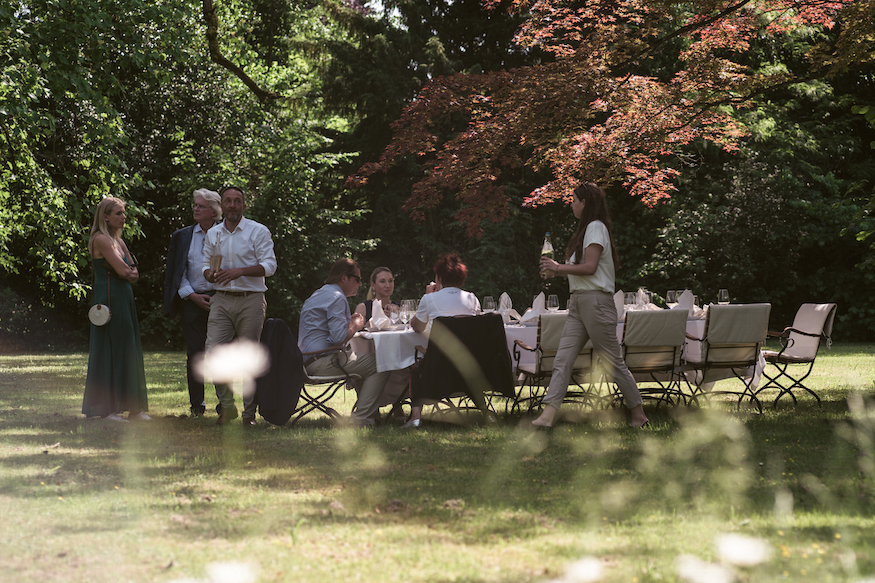 The amphora: a symbol of antique tradition and quality
What makes Domaines Ott so special is not just the quality of the wines the estate produces but also the unique design of its bottles. It resembles that of antique amphorae and elegantly links the presence and the past. The iconic bottle with its sweeping curves is an eye-catcher and the sign of the quality of the estate's wines at the same time.
The viticultural tradition of the Provence region is deeply rooted in the past. The Greeks and Romans already planted grapes here and made wine in amphorae of pottery or glass. On his Grand Tour through Italy and France in the middle of the eighteenth century, Tobias Smollett remarked upon the wine in Nice that it was 'kept in flacons, or large flasks, without corks, having a little oil at top.'
From the seventeenth century, the popularity of glass grew and technological advances allowed producing stronger glass in various shapes. But wine was still largely bought and stored in barrels and only decanted into a bottle when served at the table.
Wine bottles in the shape that is common today started to emerge only around the mid-eighteenth century. People had realized that the quality of the wine improved when it was stored in airtight bottles. To keep the bottles airtight the cork has to be moist at all times and that requires horizontal or upside-down storage. A new shape had to be developed.
In the 1930s, European wines became largely popular overseas and were sold en vrac. For more independence from the merchants, Provençal winemakers decided to design their own bottles.
In 1930, Domaine Ott launched an organic wine, the bottle of which was designed by René Ott. Reminiscing the graceful landscape of Provence with its hills, shorelines, and long rows of vines, it had long sloping shoulders, a bulging middle, and a narrow base with a small flared rim. The bottle was elegant and instantly recognizable, which facilitated the entry with restaurants. Domaines Ott uses bottles that largely resemble this initial design until today.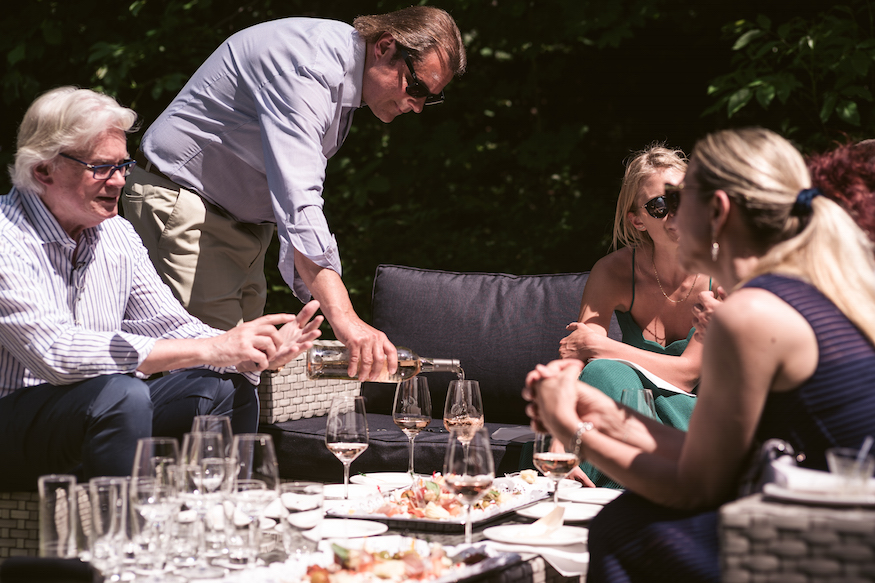 When we got the invitation to discover the Domaines Ott Vintages 2018, to taste the Château de Selle 2018 and to meet Jean-Francois Ott, we were delighted, of course. Jaz and Alex participated in the Garden Picnic and brought back these fantastic pictures.
About Domaines Ott Château de Selle Rosé 2018: This is an elegant, fresh, and fruity wine that accompanies an aperitif, Mediterranean cuisine, white meats, and fish to perfection. Its pale pink color boasts subtle golden, sun-kissed highlights.
Aromas of citrus fruits, white flowers, and spices enchant the nose. On the palate, we detected refreshing hints of lemon. A very pleasant wine to put in your picnic hamper and to enjoy chilled.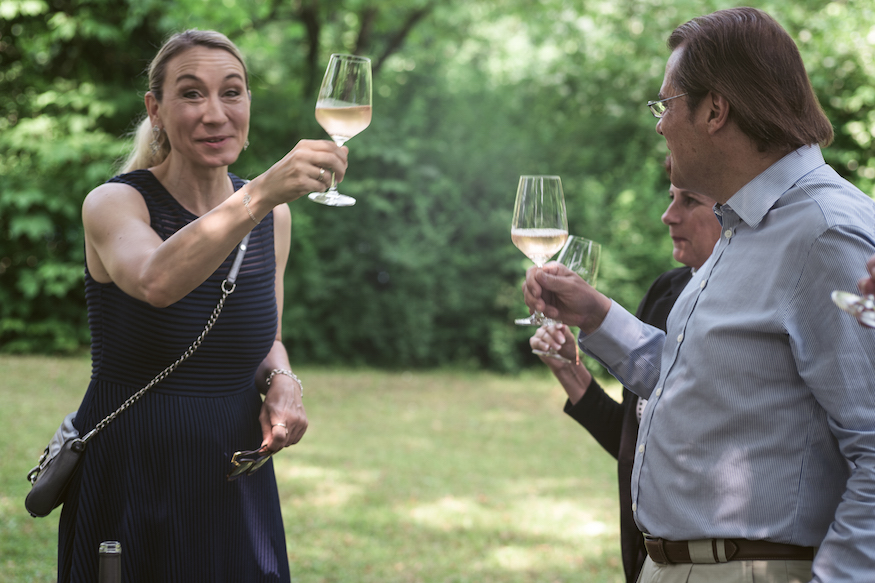 Domaines Ott online: Web, Instagram, Facebook Photos: www.lambrechtsphoto.com, @alex_lambrechts