As more and more vegan products enter the market, Emmi joins the dialogue with its brand new, plant-based Beleaf product line. It is based on almonds or oats and comprises not only drinks and shakes but also yogurt alternatives.
Emmi's coffee drink family is also getting a vegan addition: Emmi Caffè Drink Almond Macchiato. The vegan version of Emmi's cold coffee drink offers even more variety: it combines the classic freshly brewed espresso with an almond drink.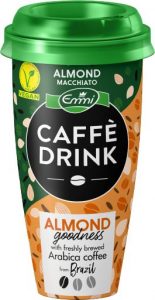 With Beleaf, the Swiss company offers an alternative to imported milk substitutes without wanting to be a competition for domestic dairy products. In Switzerland, the market is still niche but is set to see growth in the near future as the demand for vegetarian and vegan products is ever increasing. Be it for health, environmental or ethical reasons, consumers are more inclined to explore plant-based, cruelty-free alternatives than ever.
Some consider this development a trend; others firmly believe that it is a necessity. Current circumstances will motivate even more people worldwide to question their food and lifestyle choices. Vegan, vegetarian, or flexitarian… whatever your disposition, Beleaf is a great addition to the selection of plant-based products Made in Switzerland that you can now find in your local supermarket.
For Emmi, however, vegan is not new! The company has been producing a variety of plant-based products based on almonds, cashews, and lupines for its trade partners since the 1990s. The majority stake in the Austrian organic company Hale has further strengthened this sector.
With the launch of Beleaf and the Emmi Caffè Drink Almond Macchiato, Emmi is consistently pursuing the strategy of occupying niches early on and thus also strengthening Switzerland as a business location: "The ongoing trend towards vegetarian or vegan nutrition makes it an economic necessity for this development," underlines Urs Riedener, CEO, and continues "…we not only have the right production facilities, but also a great deal of know-how in plant-based foods."
More about Emmi Beleaf and Emmi Caffè Drink Almond Macchiato here >>>