Since its Foundation in 1975, Fuchs Gastronomiebedarf GmbH has grown steadily. Claudia and Gunter Fuchs founded the company in Offenbach am Main and are since supplying restaurants, pubs and bars with catering equipment. The company is still family-owned today. Over the years, it has progressively developed from pure sales to manufacturing.
We teamed up with Fuchs and, from their fabulous assortment, selected the Fox Box. The Gift Set includes: a Heavy Strainer, a small bottle opener, 3 Stainless steel pourers with a soft segment, a Caipirinha pestle, a Bar spoon with pestle, a Tin on Tin Shaker, a Lemon and lime squeeze, an Ice tong, and a Maxi Jigger measuring jug. Items in the total value of EUR 49,40.
Now if that is not a reason to celebrate! If you want to get a hold of this fabulous gift – for yourself to get mixing in style at home, or for a friend who is a professional barman and who would appreciate new equipment – nothing easier than that! To enter the giveaway, simply follow these steps:
Like this post on Instagram or Facebook

Follow fabdrinx and Gastro Fuchs

Leave a comment with your favourite cocktail
If you are feeling extra foxy: tag a friend and ask them to post their favourite cocktail too! In that way, not only are you spreading the Christmas cheer, you also help us compose a nice list of cocktails for the holidays! Go!!
The giveaway is meant for our readers of legal drinking age. It runs until 24.12.20 across all our digital channels. Each participation in every channel counts and increases your chance to win. On Boxing Day, the winner of this giveaway will be determined by lucky draw. Thank you for being part of the fabdrinx community and for joining our Christmas Countdown. Good Luck to all the participants!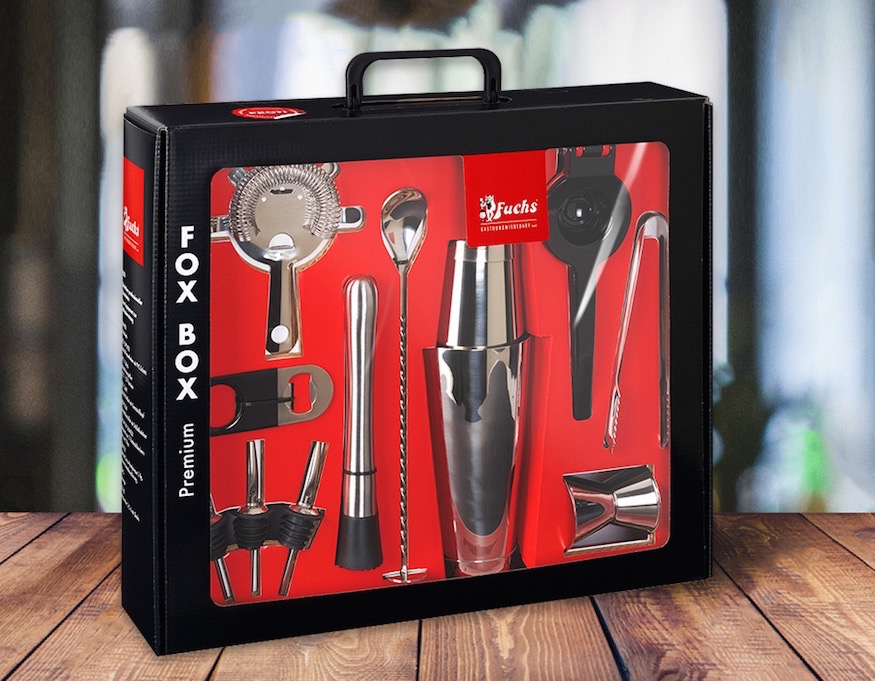 True to the current owner's motto: "If there are no suppliers willing to work with us to bring a new product to market, all we have to do is make it ourselves."
Said and done! Now the company develops and produces innovative products itself. All the prerequisites for fast and customer-friendly processing were created by moving to the new company headquarters in Mühlheim am Main.
With more than 3,500 articles today, Fuchs is not only a leading supplier in its market segment in Germany, but its experience and high product quality are also valued in many other parts of the world.