With its idyllic location, facing the lake and the Jet d'eau, a 200 m2 sun-drenched terrace, a friendly setting, as well as local and seasonal cuisine… the new Brasserie at the Eaux-Vives public beach is set to conquer the hearts of Geneva citizens and visitors alike.
Located at the end of the pier at Eaux-Vives beach, the new Restaurant de la Plage, stands out! Its modern architecture, designed by the Geneva office LLJ, consists of a galvanized steel structure on stilts and a glass cube so as not to spoil the surrounding landscape. Its covered terrace of 200 m2 is overlooking an esplanade of 700 m2 and offers a capacity of 230 covers, 80 inside and 150 outside. In addition to on-site dining, the property also has a refreshment bar, allowing you to take your Lake Pike Fish & Chips and Craft Beer with you and enjoy it directly on your beach towel.
As for the decoration, rather refined, it skillfully mixes the codes of a brasserie with that of a beach restaurant: solid wood tables, designer chairs, and a white earthenware bar. The brasserie feeling also reflects on the establishment's menu which is imagined from local and seasonal products, served in a friendly and relaxed atmosphere.
The man behind the concept
Before taking the reins of this new address, Aymon Choisy had already delighted visitors last summer with his restaurant concept Les Vélos de la Plage, which will pop-up again this year.
"Unique", "powerful" and "modular", these are the adjectives that the restaurateur aligns to describe his newest restaurant. A fervent defender of local and seasonal cuisine, the Geneva entrepreneur, at the head of Cheval Blanc in Carouge, since 2006, and partner of the Horace Café, at La Jonction, wanted a restaurant open to all with affordable prices: craft beer CHF 5, daily specials between CHF 18 – 23.
"The modern architecture of the restaurant can project a slightly chic and inaccessible image that we wanted to break by offering a brasserie-style cuisine, made from regional products with excellent service while remaining relaxed", comments the manager.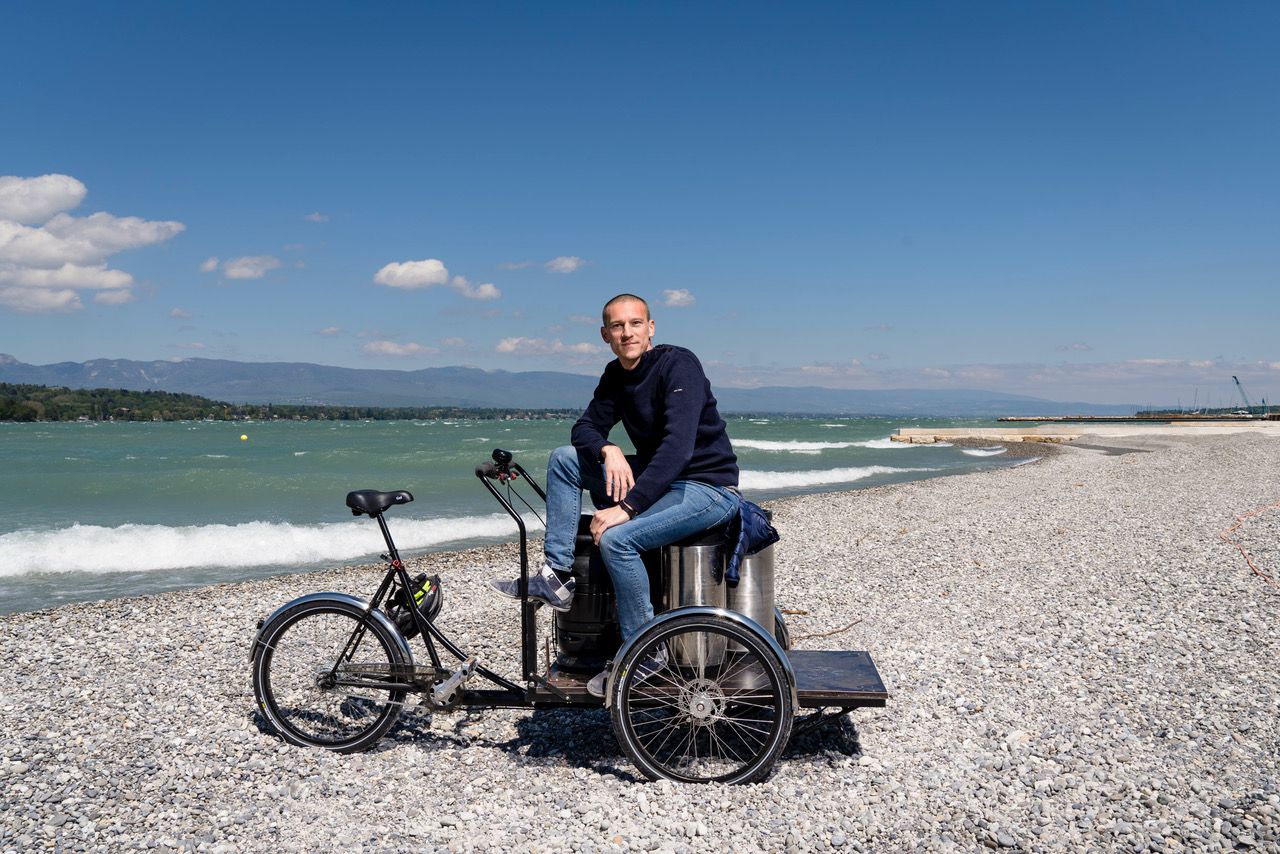 Le terroir on your plate
Imagined in collaboration with the chef of the restaurant, Laurent Wozniak, who made his mark in several palaces in the square, starting with Hôtel President Wilson, La Réserve de Genève, and Beau-Rivage Palace in Lausanne, the menu is simple but generous. There will be a new menu each season, 3 starters, 4 main dishes based on meat and GRTA labeled or Swiss fish, but also a vegetarian choice, as well as homemade ice cream for dessert. The traditional dish of the day is proposed in form of 5 suggestions that will change every two weeks.
Focus on provenance
Finally, in order to fully play the card of transparency, the origin of the various products will be directly entered in the menus, printed on placemats. As for the wine list, like the dishes, it will honor the producers of the region, with a selection of natural wines, but also some gems from elsewhere.
"I would like this place to become a Fun Palace, a modular place that evolves with its guests and events," says Aymon Choisy, who promises a festive weekend for the opening with music by local bands.
Reservations: reservation@restoplage.ch, www.restoplage.ch