Chef Jean-Edern Hurstel reinvents Le Floris, from the owner to the expanded offer; the establishment is getting a makeover!
The emblematic institution on the shores of Lake Geneva, located about ten minutes from Geneva, in Anières, is writing a new story spurred by the talented French chef Jean-Edern Hurstel and the entrepreneur Lionel Roques. Evolutive and open to all, Le Floris by Jean-Edern Hurstel offers places to live at any time of the day and for all moments of life, from the Gastronomic Fusion Restaurant to the Lounge Bar, including La Pinte, an elegant bistro in chalet style that proposes Swiss specialties.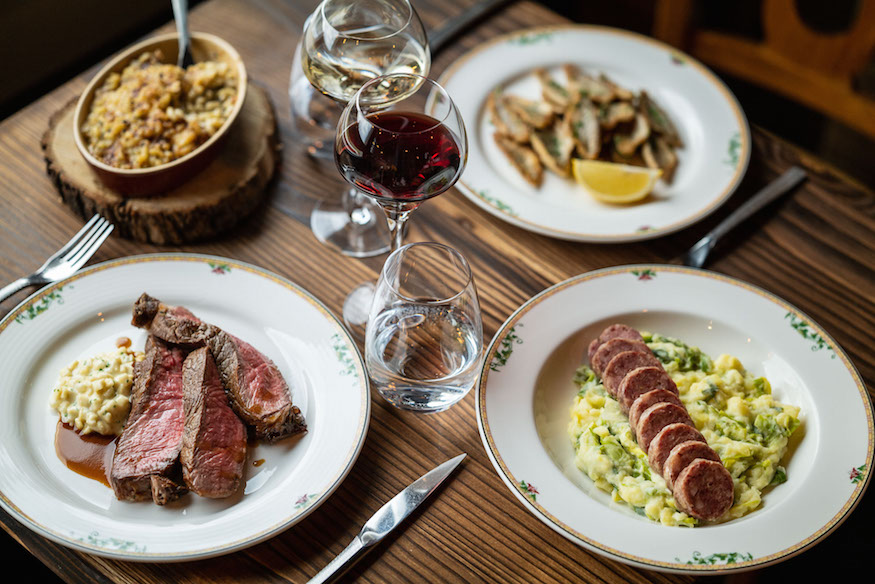 With its breathtaking view of Lake Geneva and its 2000 m2 garden surrounding the property, Le Floris by Jean-Edern Hurstel offers a unique environment at the gates of Geneva. Completely renovated and resolutely modern, it translates over several spaces offering as many different concepts and varied atmospheres, from morning to evening. "Whether for a business lunch, a romantic or festive dinner, a family brunch, or simply to drink a coffee while working from home, Le Floris by Jean-Edern Hurstel is an evolving place that adapts to the needs and desires of its customers throughout the day and into the evening, "commented its founders.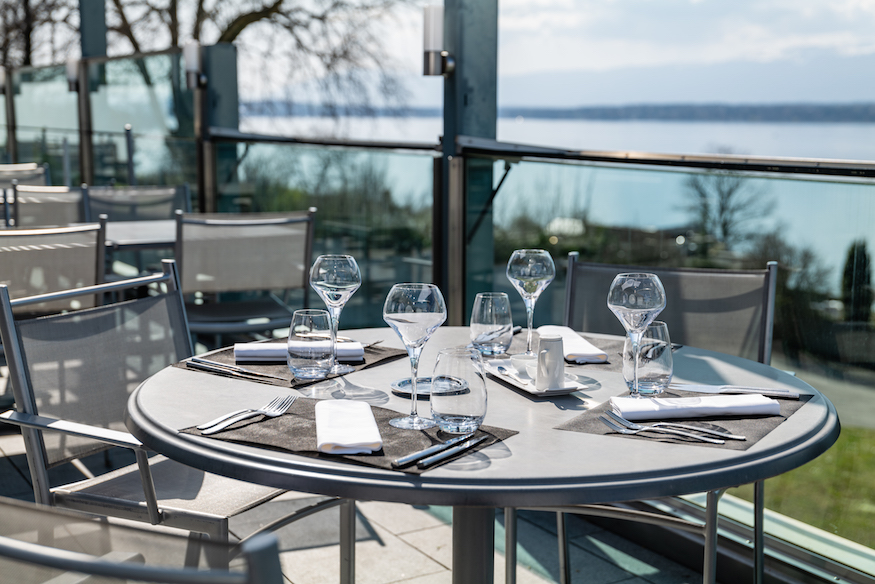 Le Floris is a venue where you can take time for yourself and enjoy sparkling moments in a friendly atmosphere. Its different spaces are evolutive and can also be privatised. Ranging from large-scale events to more targeted concepts, they are customizable for a launch party, a business seminar or even a wedding. All in a warm and festive spirit, with a service that is as attentive as it is meticulous.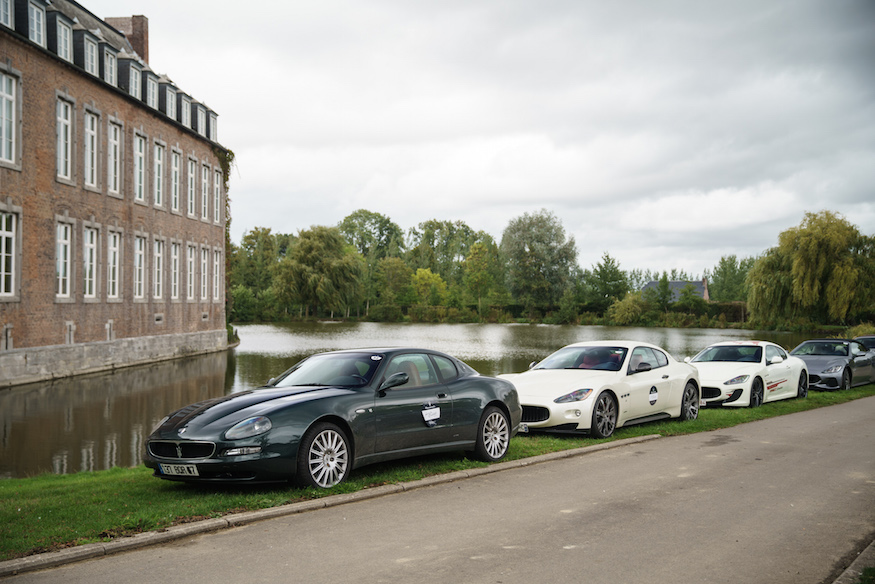 Sharing plates with a view
With a base of classic French cuisine – oriental in its way of presenting the starters and under Asian influence in the harmony of tastes – the Gastronomic Fusion Restaurant offers gourmet and inventive cuisine, imagined around dishes that are meant to be shared. Salmon marinated in miso, Linguine with blue lobster and shellfish bisque or Beetroot emulsion hummus style… these are just some dishes on the menu, which will change with the seasons. Swiss and Aniérois wines will be offered, alongside many suggestions that will delight oenophiles.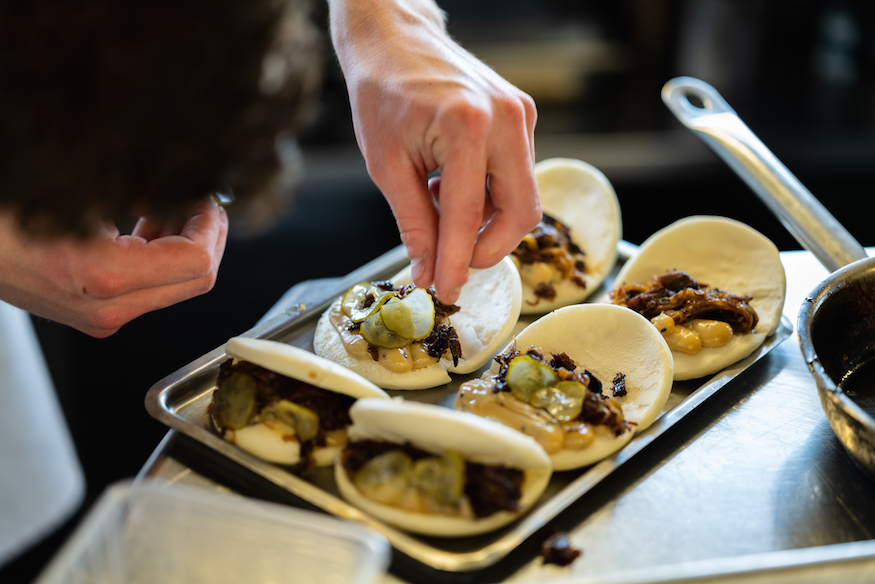 Bright and spacious, the restaurant, which can accommodate a hundred people, spreads out onto a 150 m2 terrace, as well as a welcoming room with a U-shaped banquet and a spectacular view of the lake. On the sides, two rooms with a capacity of 12 people can be fully privatised to accommodate business meetings or any other event on request.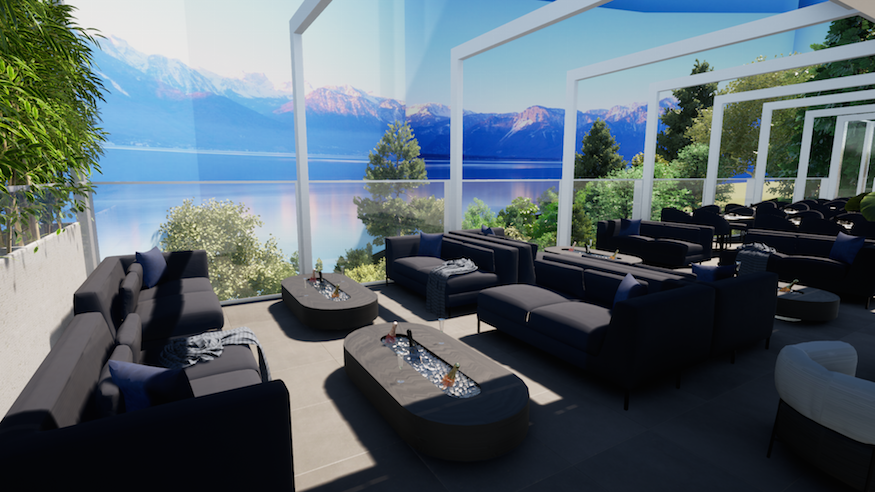 Cocktails "Faits Maison"
At time for the aperitif or after dinner, the establishment's Lounge Bar is an invitation to take the time to breathe, comfortably installed on sofas facing the lake and the mountains. Located at the entrance, the bar gives a real spirit of sharing, friendliness and comfort, where warm and delicate materials mingle with artistic creations reminiscent of the ripples and vibrations of Lake Geneva.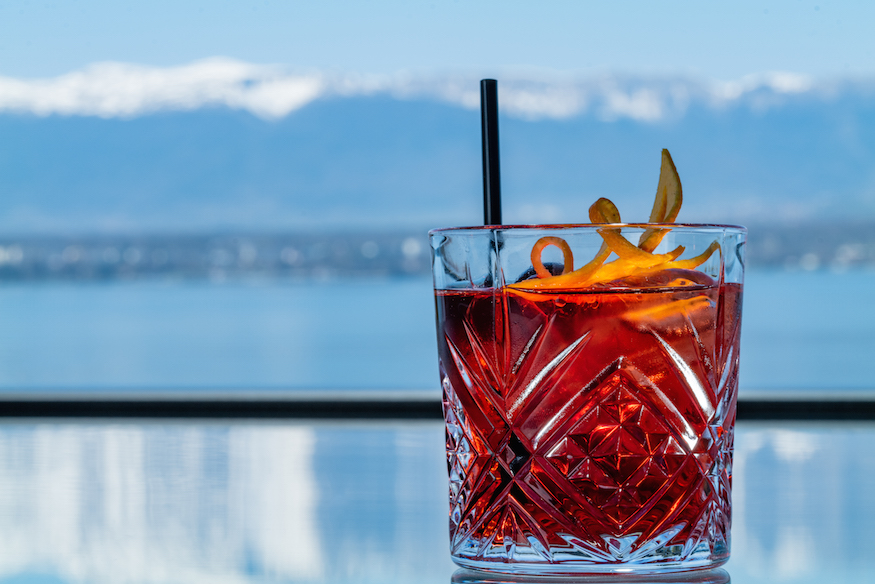 The bar is a unique experience by Jean-Edern Hurstel, where you come to admire the most beautiful sunsets while sipping a cocktail or extend your evening around a drink or two, when the lights are dimmed to make way to a more cosy atmosphere. From classics like Manhattan and Negroni, to bespoke creations, the mixologist offers home-made and inventive cocktails, customisable to suit everyone's taste and which can be kept chilled thanks to a new concept of tables that have a component for keeping drinks cool.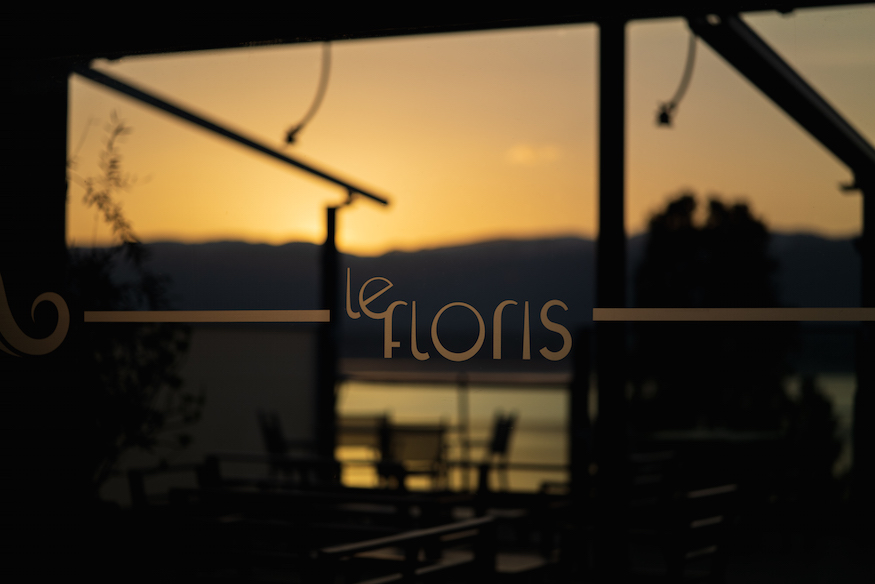 Le Floris Bistro "La Pinte"
With its walls covered with wood, its bistro tables including a 10-seat table d'hôte inviting you to share, its beer bar and its subdued atmosphere, La Pinte offers a real Swiss bistro atmosphere in the heart of Anières. With a separate entrance, the restaurant has a grocery corner, as well as a room that can accommodate around 50 people. Tasty and locavore, certified GRTA, its cuisine highlights Swiss specialties, from fondue to loin, including cheese crusts or perch fillets from the lake.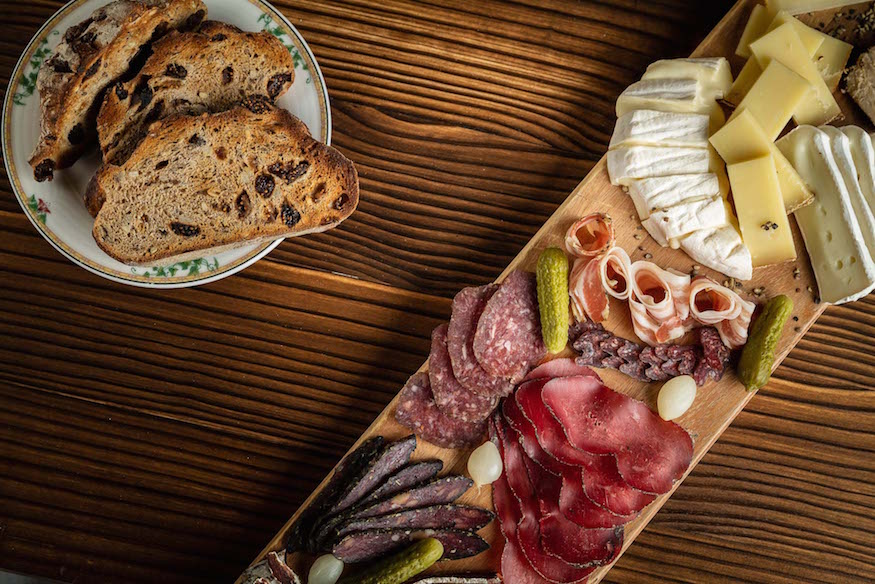 As for the grocery store, in addition to finding homemade products, such as granola and jams, it will also be possible to order take-out dishes presented in jars, ranging from soups to veal blanquette. "With La Pinte, we want to give back to Anières a real village bistro, where people of all ages and backgrounds can meet and mingle. All in a good-natured spirit, a warm decor and a relaxed atmosphere ", comments Lionel Roques.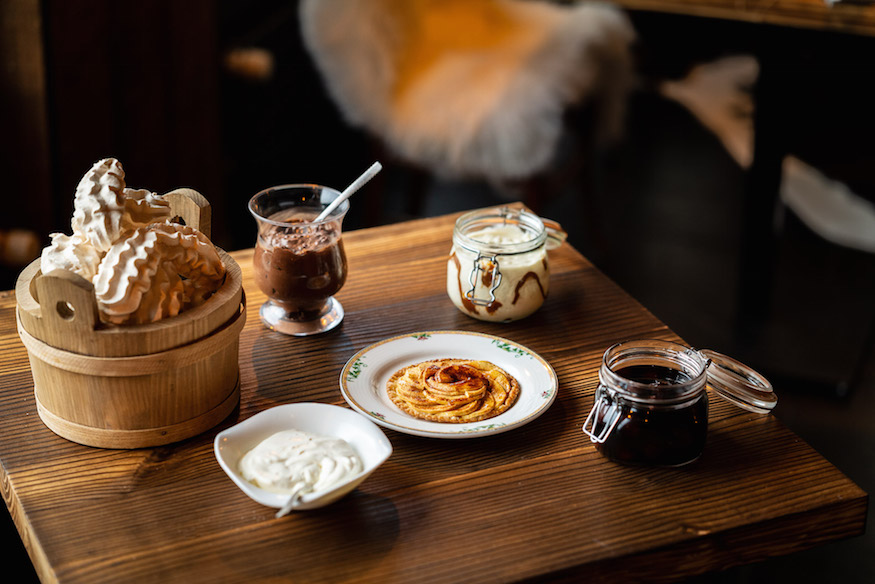 The Duo at the origin of the project
For the talented French chef Jean-Edern Hurstel, having worked in four three-star restaurants and also known for his remarkable appearance in Top Chef, taking over Floris sounds a bit like a homecoming. It was with Claude Legras that he, between 1996 and 1998, completed his apprenticeship as a cook before continuing his training with the greatest French chefs, such as Alain Ducasse, Alain Senderens and Alain Passard. Jean-Edern Hurstel then left for new horizons and went abroad, to Dubai, where he worked in five-star hotels. During this time, his gained considerable experience in the management of several restaurant outlets.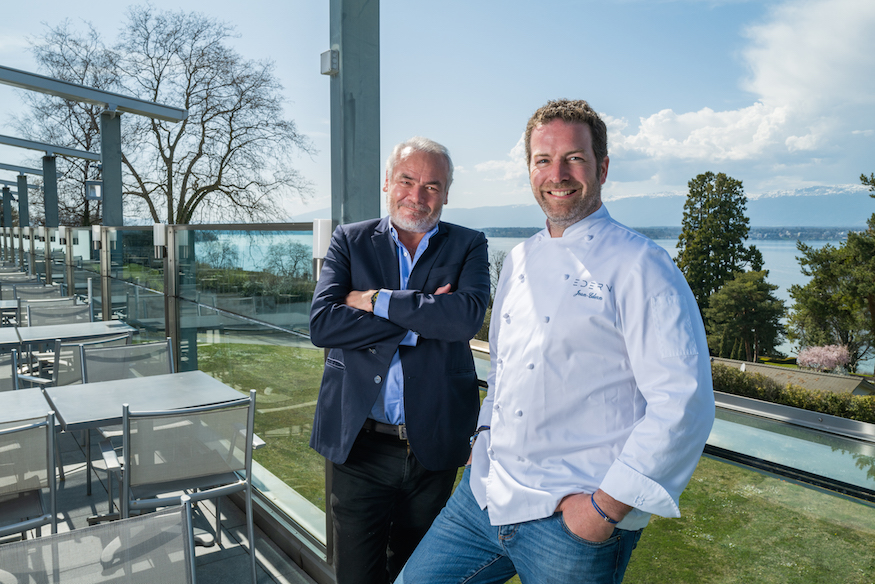 With France's appeal growing stronger, he returned to Paris to manage the opening of the Peninsula, as Palace Executive Chef, making him the youngest Palace Executive Chef in France.  Ready to stand on his own feet, in 2018 he opened his own restaurant on the Champs-Elysées, Edern, now followed by the opening of Floris by Jean-Edern Hurstel, in Anières, Switzerland.  An adventure that was made possible thanks to his meeting with Lionel Roques, entrepreneur and founder of the Franco American Group, specializing in Communication, TV Production and Events.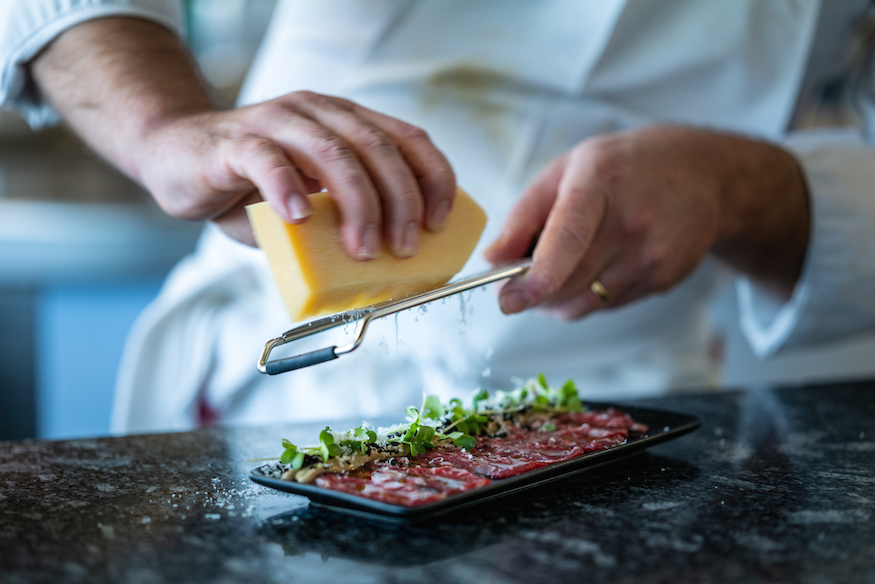 Eager to add a string to his bow, he wants to infuse catering with his extensive experience in event organisation and thus make his establishments ones with real "places to live", welcoming and open to all. "We thought of this place as a meeting point, a place that brings people together. More than ever, people need to come together and we have redesigned the Floris around this wish, by shaping a place of life with spaces to live, for all times of the day, at all moments of life.", explains Lionel Roques.