"When was the last time you did something for the first time?", that was the question on the invitation to the Ruinart Harvest Camp in Reims.
For me, luckily, there are still many firsts. It's what I like most about life: the unpredicted, the surprising. Every day is a new start. The only thing you can be sure of is where you are coming from, but not where you are going. You may think, you got it all planned out, but life has a way of surprising you that sometimes, it is best to go just with the flow….
So I did, I went to Reims to discover Maison Ruinart and learn about the fine art of Champagne making. And if somebody knows about making Champagne, it is Ruinart, the oldest established Champagne house and exclusively producing champagne since 1729.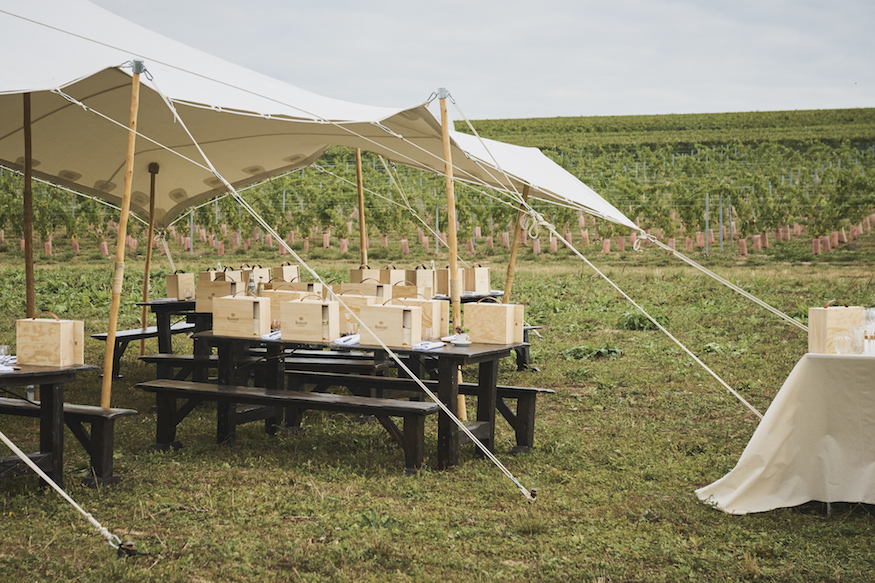 The Ruinart Harvest Camp experience was wonderfully immersive; a timeless moment that I will keep in my heart forever! It started off with an outstanding dinner at restaurant Baccarat in Paris and continued over two days with visiting the vineyards and getting hands-on picking grapes, enjoying a country lunch, a visit of the Maison and its wine cellars, workshops and another spectacular dinner imagined by and in the presence of Gregory Marchand!
Upon my arrival in Paris, a driver waited for me and took me to the hotel. The aperitif was served at Hotel de Jobo. After the Champagne reception, our little delegation was driven to Museum Baccarat with its adjoining Michelin starred restaurant Cristal Room Baccarat. There, we had dinner in the presence of Frédéric Dufour, President of Maison Ruinart.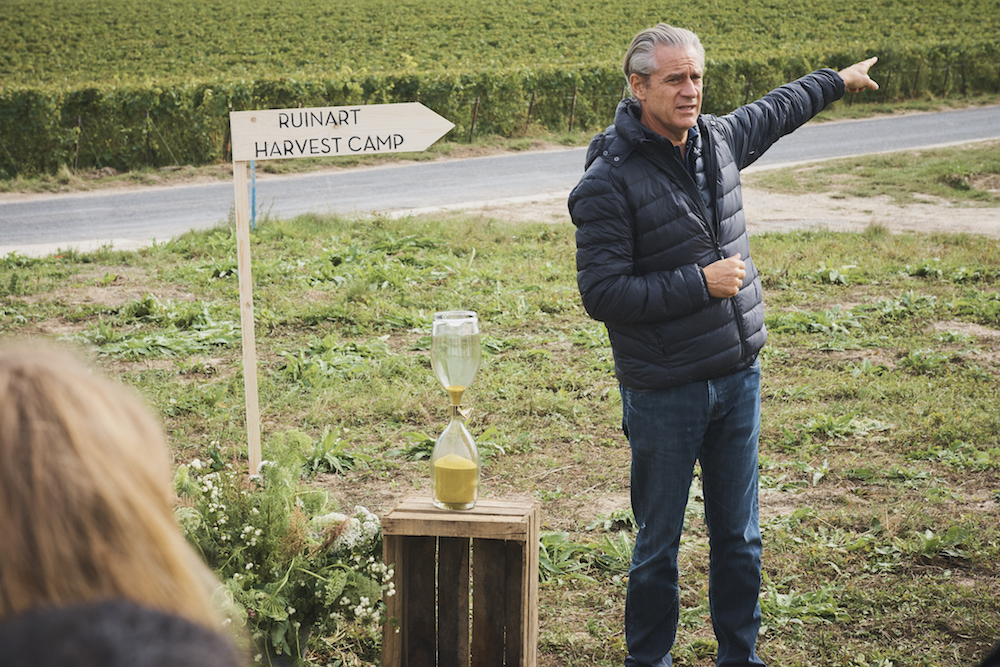 The next morning, a shuttle took us from Paris to Reims, where we were warmly welcomed in the vineyards. Here, Frédéric Dufour explained everything about the significance of time in the process of making champagne. The connection of the seasons and the soil, how the elements influence the evolution of the vines and grapes… and for us to get a feeling for what it entails to pick those precious grapes, we were given the challenge to harvest as much as possible in an hour.
Paired in twos and equipped with scissors and baskets we were sent out in the vineyards. One thing is certain: it is not an easy job. Okay, we are inexperienced and had to develop a technique of finding, feeling and cutting the grapes first, so we were slower than the people who are usually helping with the harvest, but still, it was surprising to see how little a quantity we got together in the time we had… if you think how long it takes Mother Nature to produce the grapes, how much attention and care they require, then how much time it takes to pick them and to make champagne, you will value and respect the final product even more. Every sip of champagne tells the story of craft and passion.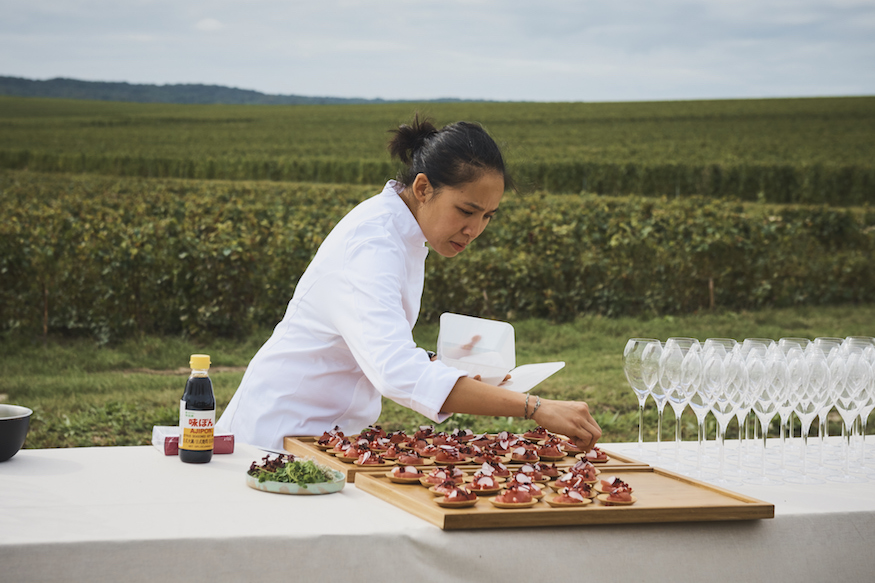 Lunch was freshly prepared by Chef Céline Pham. She is a Paris based private chef and her culinary style combines her Vietnamese roots with classic French gastronomy. The picnic was utterly delightful! Inside our wooden lunch boxes we found individual parcels with illustrious names such as "La Tentation" containing banh mi sandwiches, summer rolls, a fabulous selection of cheeses, and the fluffiest of lemon ginger madeleines!
To accompany the experience, we were served Ruinart Rosé, a blend of Chardonnay and Pinot Noir. Fruity and aromatic yet characterful with light, gentle effervescence and silky, persistent foam this Rosé boasts notes of tropical fruit and pairs very well with Asian flavors, but also with aromatic cheeses. All that in fresh air, and with a 360° view of the Ruinart vineyards… A match made in heaven!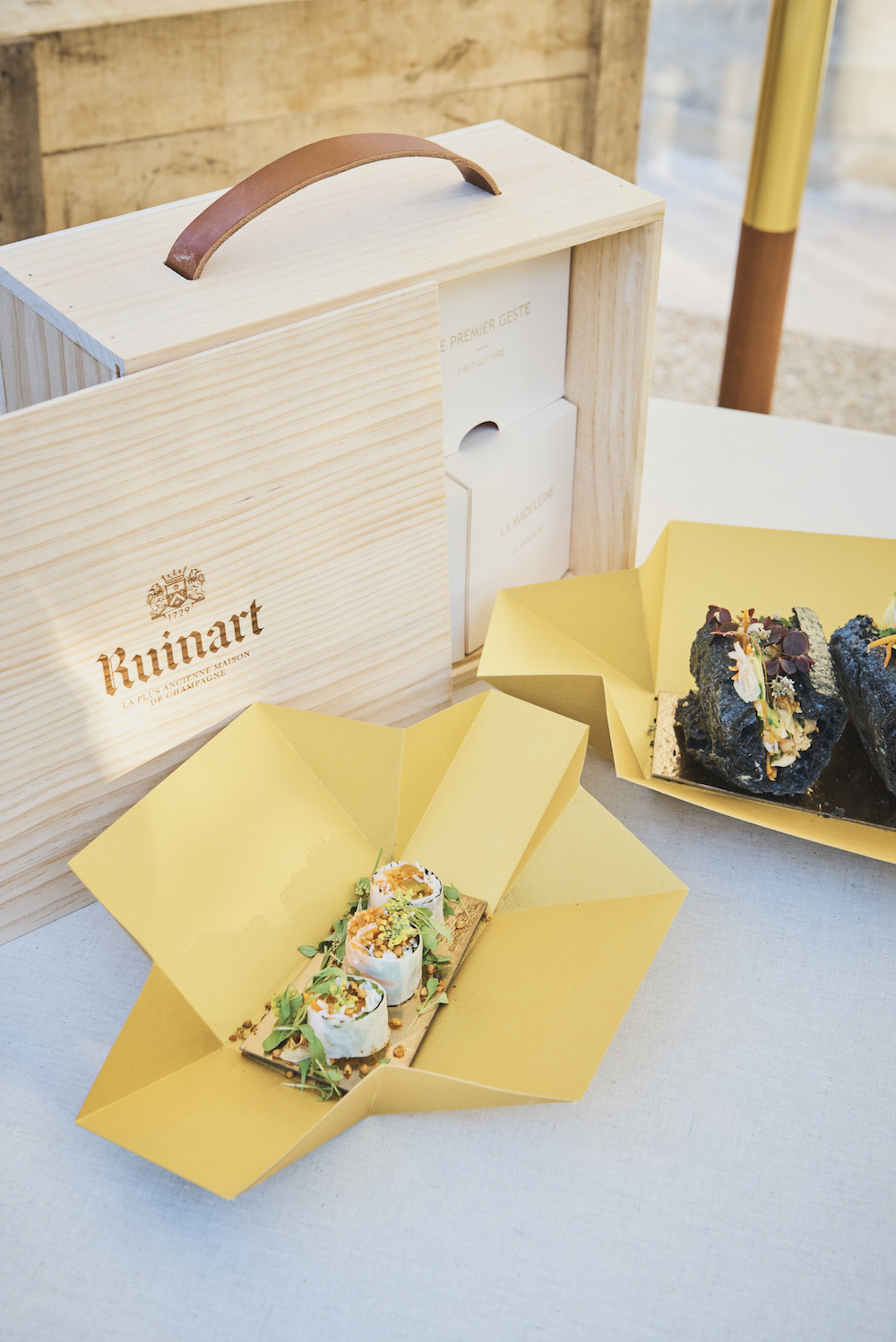 Tempus fugit… Let's slow down for a while! Time just seems to fly by and has become a constant concern. True luxury is being able to fully enjoy the moment with all our senses, comfortable and guilt-free; a seamless and natural experience of simply having time. No pressure, no worries, just pure indulgence…
From experiencing the immediate vividness of a ripe and juicy chardonnay grape and exploring the 8 miles of Crayères, the chalk cellars where Ruinart Champagne is stored to mature, witnesses to ancestral know-how, to tasting the delicate cuvées of the Maison, the time spent with Ruinart was truly inspiring and rejuvenating!
Just being outside and surrounded by people with the same passion, breathing the fresh air, walking the grounds that our ancestors cultivated, descending deep into the cellars were the most wonderful treasures are kept made the trip to Reims a souvenir for a lifetime.
We got to indulge in the dazzling intensity of the bubbles, enjoy incredible food pairings, taste the freshness of pickled vegetables, the juices with the aromas reminiscent of good times, learned about the making of a knife and some real kitchen hacks from Jay Patel, an absolute pro and then got to taste oysters, too! I loved every minute of the workshop sessions!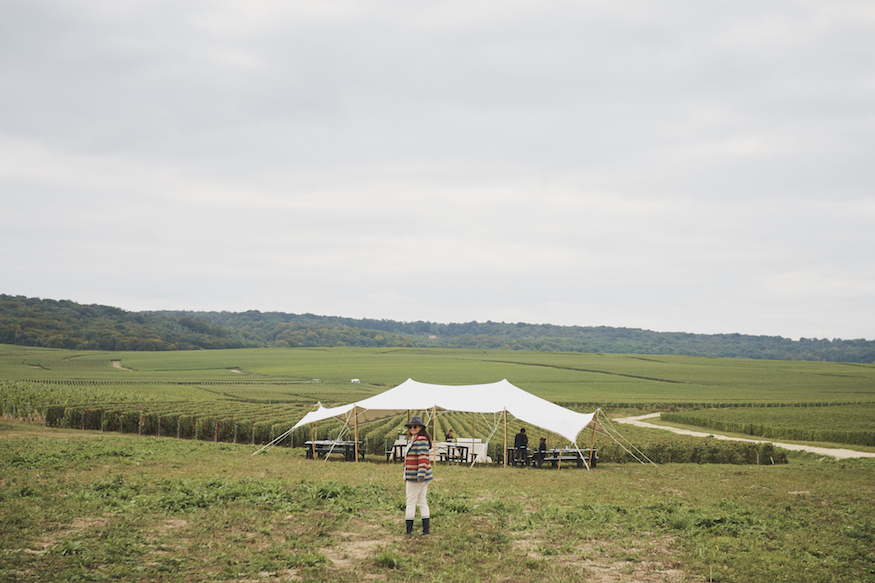 After lunch, we drove back to Maison Ruinart and got to participate in a series of different workshops. These were animated by artisans and craftsmen and -women to whom the Maison was closely linked. Among them Jay Patel, the founder of the Japanese Knife Company – from whom we learned how to properly cut onions, Yvon Madec, owner of the Prat-ar-Coum oyster farm in Bretagne, Alain Milliat, an artisanal producer of organic juices and fine foods, and Chef Céline Pham, who taught us all about pickles. Like us, they were all asked to recall a remarkable experience, something they did for the first time, and that shaped their trajectory.
Jay Patel: Owner of Japanese Knife Company
"It takes several years to make a knife. I went to Japan for an introduction training. I was supposed to stay for a few months and I stayed for 10 years. During the first two years, you learn to hammer the steel; it takes 10 years to learn how to sharpen it. The notion of time with the Japanese has nothing to do with the Occident. This is what is so beautiful and rich about this country. This is what makes my knives today unique; it is a learning process, an initiation, a lifestyle. The first time I used a blade suited to cut a tomato, I did not lose one single drop. The taste was of incredible purity, a lasting memory and so evocative of the future."
Yvon Madec: Oyster Farmer
"During my career, I did not learn to harness the elements, because they cannot be harnessed, but I learned to co-exist with them… To succeed in adapting my working pace with nature. To admit that it will always get the better of my experience and techniques. To live an eternal rebirth with the paradox that everything is always different! To transform the uncertainties into sources of marveling and permanent rediscoveries. What could be more joyful than "spat collection" being collected? This moment is preceded by a kind of feverishness. Will the results be there? Will we have oysters? A joy comparable to the birth of a human being and which permits to augur a cycle: survival, growth, will they be ready in time, and the sparkling eye of the person who tastes them…"
Alain Milliat: Artisanal Juice Producer 
"A memory of something I did for the first time? Maybe my first purchase of clementines in Sicily. I was rather intimidated by the situation and above all by the master of the house who was quite charismatic. He could have been a character in a movie. Anyway, he was ready to sell me his ripe and juicy fruits and even invited me to his table. I was rather antisocial. I ate my dish, probably pasta. The old gentleman at the other end of the table, which he chaired, told his daughter to serve another helping. She whispered to him: "No, that's ok for him. He is already fat enough." I only spoke a few words of Italian and when I heard this, I almost choked. Maybe that's what made me jump or move in an awkward way, because the chair on which I was sitting broke, followed by a deafening silence. And then the daughter said: "You see, I told you that he is too fat."
Céline Pham: the Chef who prepared our country lunch
"For me, pickles are the key to the balance of a dish. They are sour, sweet, salty, and crunchy. I cannot do without them. When I was young, I balanced every mouthful with pickles, otherwise, everything seemed to be too salty, too tasteless, or too tasteful, in Vietnamese or French dishes. For me, it was impossible to eat cooked meats without pickled gherkins, or caramelized pork without carrot pickles. I worked hours with my grandmother to learn how to prepare this kind of pickles. This required a  lot of patience and love, not to mention a lot of sacrifices too, for every vegetable placed in a jar, because the pickles for which she was known in her neighborhood were the garlic pickles. I spent hours peeling garlic and days making vampires disappear (and not just them!)"