Traveling, exploring and shopping… nothing is like it once was. And nobody knows if and when things will go back to normal. "Support your local" is the word on the empty streets of our cities. Yes, we all want to help our local shops to stay in business and in many cases this is currently only possible online. But not every small shop has its own website, social media presence, online community or web shop… so many small shops fall by the wayside.
We wouldn't be Fabdrinx (fabulous drinks / x) if we didn't have the coolest partners in all corners of the globe! Probably the most fabulous Austrian vodka we have tasted so far comes straight from Styria and is made from fine Styrian corn by our friends at Entbrannt. Like them, we are burning with passion for regional products and are always trying to find the best in each region for you.
When we thought about the lockdown situation and which path we want to take for the future, it occurred to us: we don't have to go alone! Part of the concept of sustainability is community. Online or offline, we are stronger when we unite. So the idea came about to join forces with other producers from the region in order to be able to deliver Styrian specialties to your home!
What's your advantage?
8 products in one box for the price of EUR 59.00 instead of EUR 75.00, including VAT and delivery.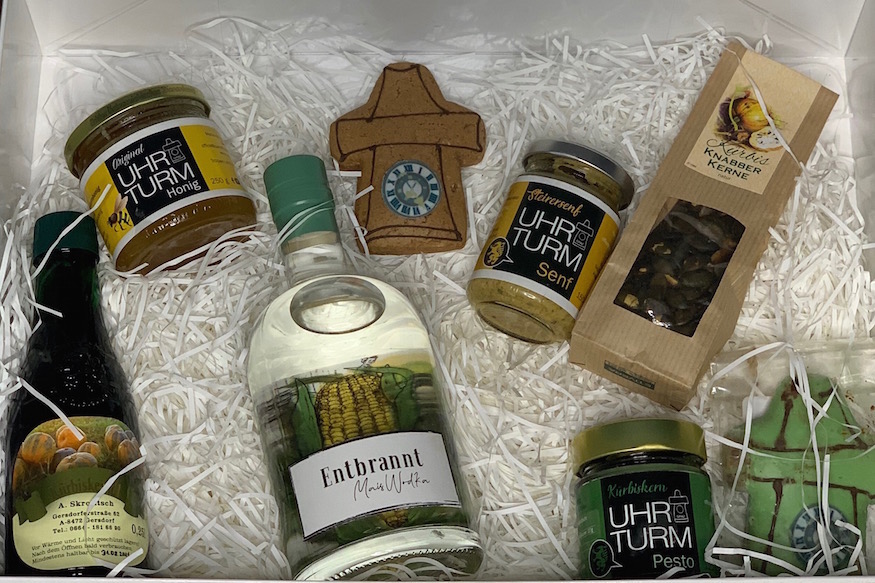 What's in your "Steirer Box"?
1 bottle of Entbrannt Mais Vodka (EUR 44.90)
5 Uhrturm specialties: 2 gingerbread, honey, pesto, mustard (EUR 21.10)
1 pumpkin nibble seeds (EUR 3.00)
1 pumpkin seed oil (EUR 6.00)
Entbrannt Mais Wodka
Georg, Joschi, Lukas and Rainald, four friends who have known each other since childhood, share a common passion, namely that for exquisite spirits. So it made sense that they should join forces for a project at some point. The result is Entbrannt, a vodka with a very special note and, like them, firmly anchored in Styria. Entbrannt is distilled not far from the Riegersburg Castle in the sunny south-east of Austria. Only the best local corn from the area around the castle and the purest spring water are used for making this delicious, award-winning vodka. The production is based on original Eastern European distillation traditions, combined with Austria's own centuries-old brandy culture.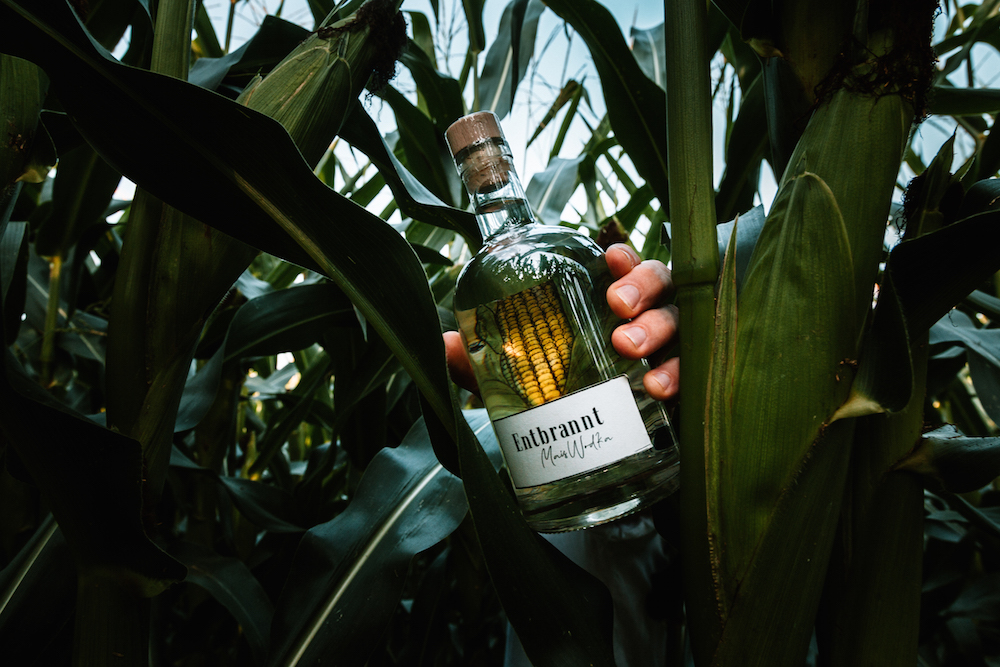 Cookies from the Uhrturm bakery
The old town of Graz, from the Schlossberg to the Mur, is a UNESCO World Heritage Site since 1999, and the clock tower thrones above it as the city's landmark. The Uhrturm bakery in Herrenstrasse produces sweets, pastries, noodles and other specialties in the form of the famous icon of Graz. The developer and patent holder of the Uhrturm gingerbread and theUhrturm products is Hans-Jörg Mackeldey, known as the Brezenmann (the pretzel man) and baker of the famous Wagner pretzels (Herrengasse and Graz main bridge). There are two gingerbread cookies in our Steier Box that you will definitely enjoy. Nicely shaped and very tasty!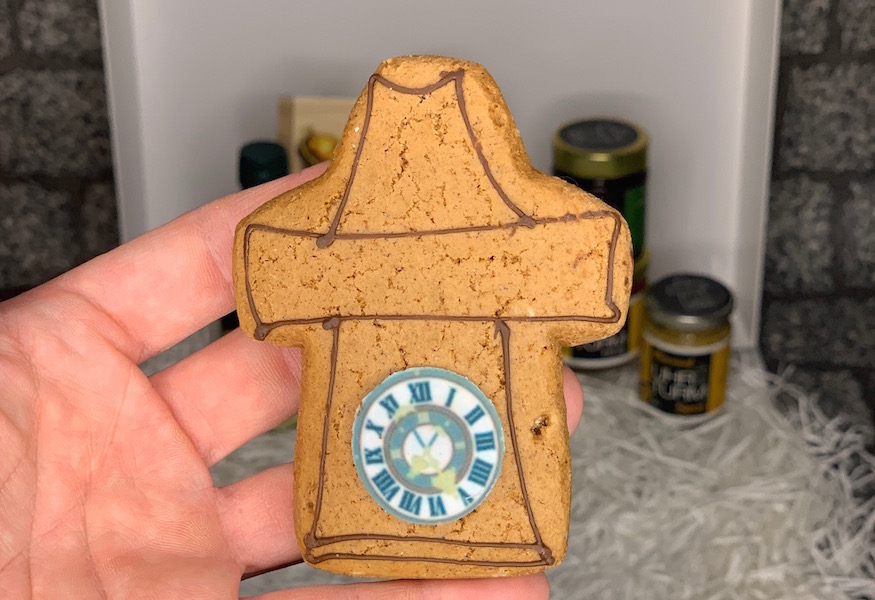 Uhrturm honey from the Grazer Schlossberg
In the shadow of the clock tower and mostly completely unnoticed by tourists, the beekeeper looks after his bees in the vicinity of the castle. Thanks to the diverse sources of food that the bees find here, this honey is atypically dark for a blossom honey, probably because leaf honey is also part of the mix. Its taste is strong, moderately sweet with a hint of sweet chestnut. Due to its origin and its composition, this honey is considered a specialty for gourmets and honey aficionados.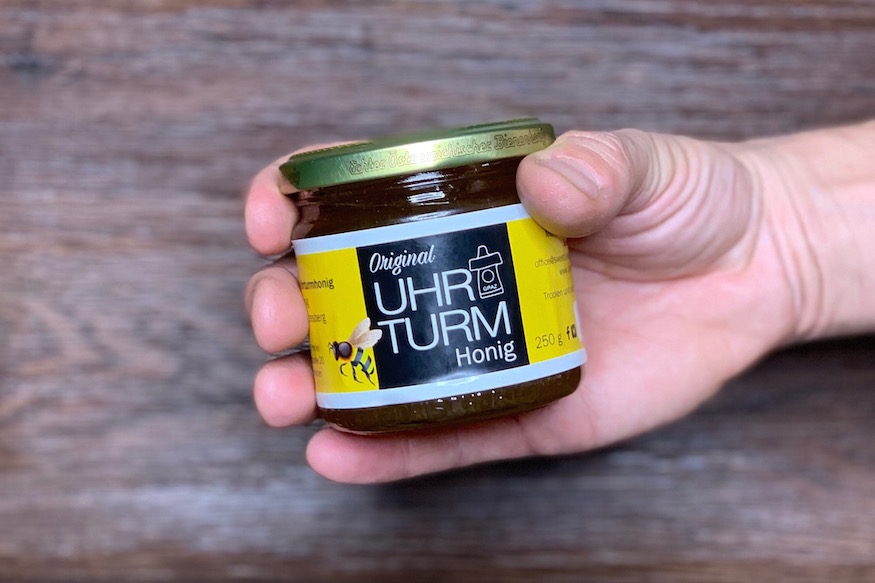 Pumpkin seeds pesto from the Uhrturm bakery
Pesto alla Genovese, Pesto Rosso… Who doesn't know them! These wonderful, spicy dips are often used as spreads or seasoning sauces for all kinds of dishes. Pumpkin is just as much a part of Styria as corn. The pesto in our Steier-Box has a wonderfully nutty aroma of roasted pumpkin seeds and you will definitely like it. In addition, there are no limits to your creativity: Pasta, Gnocchi and Co., in your kitchen, you are the master chef!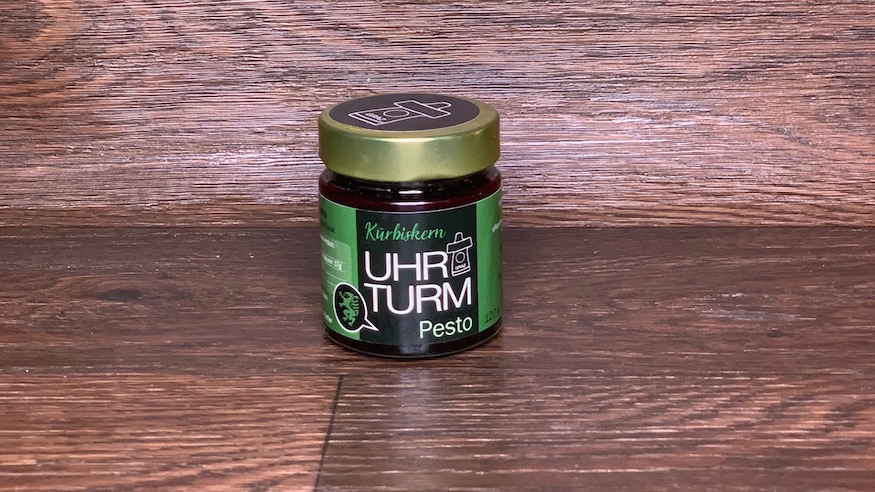 Uhrturm mustard from Styria
The art of making mustard is an old and traditional craft: recipes, method of making… Styrian mustard has recently experienced a real revival. There is a return to regionality and tradition. New and old recipes are composed to make fine gourmet mustard that seduces the senses. Fine, creamy and perfectly seasoned, this Graz original enchants the palate. Uniqueness is the common thread that runs through all the creations of the Uhrturm bakery.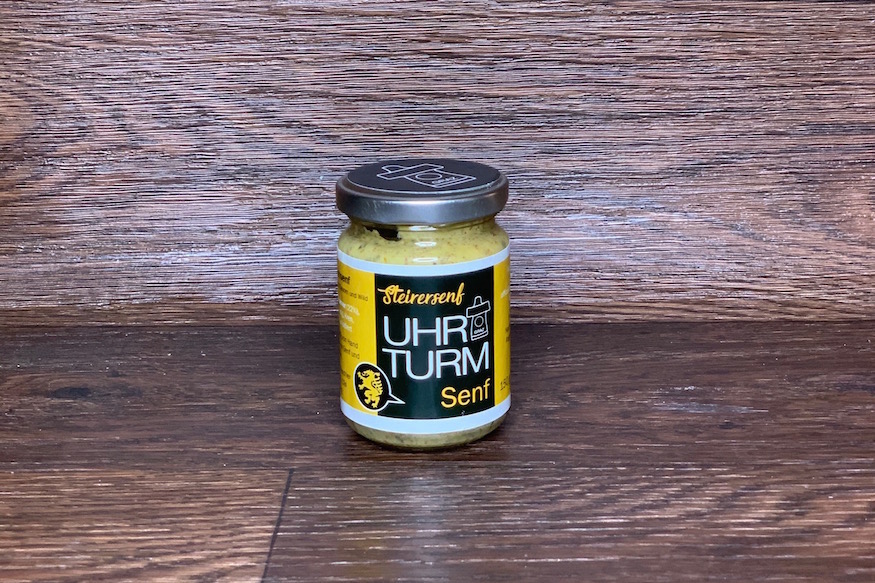 Pumpkin seed oil and nibble seeds from Adelheid Skrofitsch
The Styrians affectionately call their pumpkin seeds "Green Gold". Not surprising, because the seeds and the pumpkin seed oil pressed from them not only taste fantastic, they also support a healthy diet, because they contain valuable vitamins and enzymes. Fresh salads, soups or sandwiches get an extra kick with the authentic taste of Styria! In our box: 100% pure pumpkin seed oil from the family's own production directly from the farmer – Adelheid Skrotitsch sells her handmade pumpkin seed oil and nibbles directly from her family farm.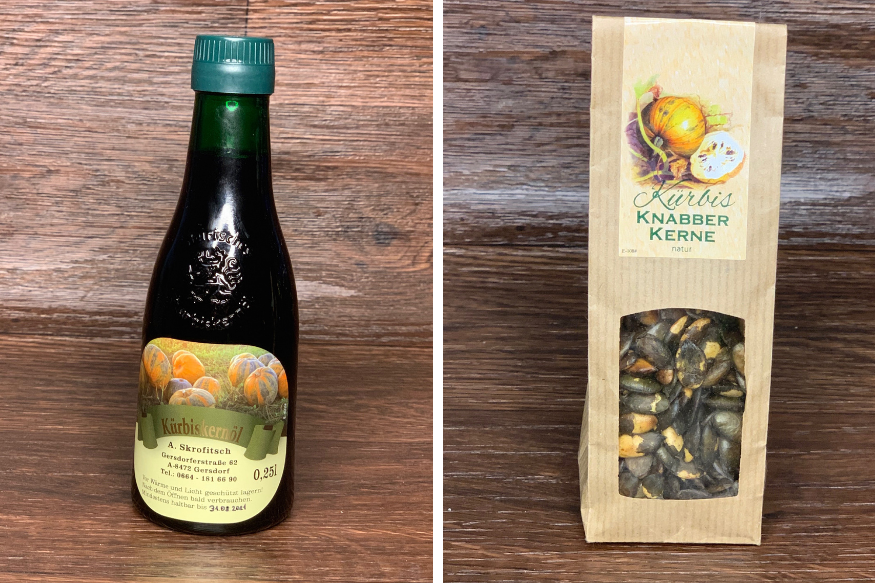 You can order the Steirer Box via the Paypal Express button above or in our shop >>>