A partnership with the goal to make a positive impact on the Earth: Sundays joins forces with Climate Partner in order to preserve our planet. 
In celebration of International Earth Day 2021 with the theme "Restore the Earth", Sundays Hard Seltzer has partnered with ClimatePartner to help fight climate change and preserve the planet.
All future Sundays Hard Seltzer productions will include a QR code on labels certifying each product's carbon neutrality, thus providing full transparency on Sundays climate action initiatives.
"It is important for Sundays to put the planet first, rather than profit, and to find a partner who helps us take immediate action," says Katy Lee, co-founder and CEO of Sundays. "ClimatePartner takes a proactive approach to climate issues that are essential to building a better future."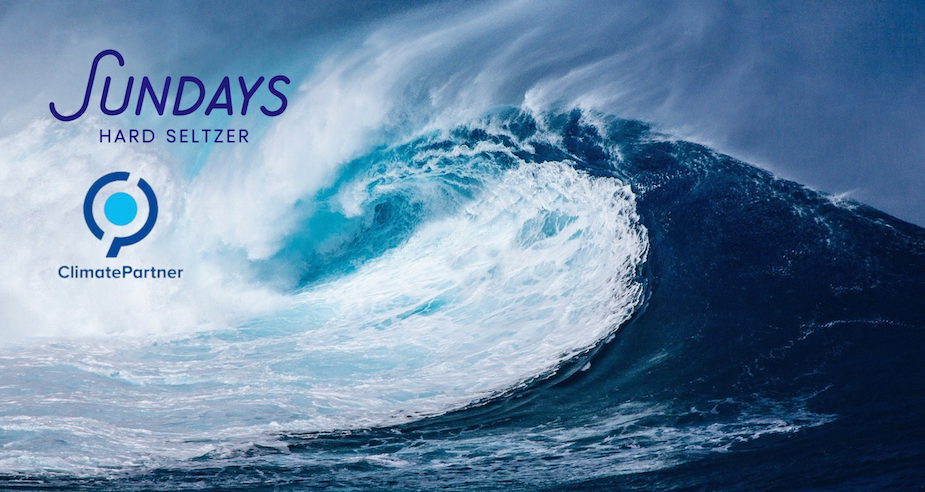 Sundays Hard Seltzer is committed to supporting its community as well as the planet. The products are made locally from natural ingredients to ensure the highest quality at the best of taste. In addition, Sundays is made with just three simple ingredients: sparkling water, a base of fermented alcohol and natural fruit flavours.
Katy explains: "With the launch of a new product, it was important that our environmental commitment be anchored at the heart of the company.
With ClimatePartner, we can measure the carbon footprint of our products and offset its unavoidable emissions by supporting certified carbon offset programs. With ClimatePartner, we can ensure transparency at every step of our journey. We are fortunate to be able to enjoy the natural beauty and abundant resources of Switzerland, including pure Swiss water which makes up the majority of our products. As such, and for generations to come, it is essential that Sundays participates in protecting the local waterways but also the global water supplies."
As part of its environmental projects with ClimatePartner, Sundays Hard Seltzer is helping to remove plastic from the world's oceans, while improving the lives of those who are collecting it.
The story of Sundays: how it began
Friends come together to produce a beverage in homage to their origins: American and Swiss. Sundays Hard Seltzer is a story of friendship and conscious connectedness! It all started when friends from different countries living in Zurich came together to produce a Hard Seltzer honouring their origins forged by the surfing spirit of Santa Monica and the hipster world of Brooklyn. All while ensuring that the light and natural taste of Sundays can seduce Swiss palates.
To assure that, Katy Lee and her associates collaborated with experts from Creative Food and Beverage in order to create a beverage of superior quality, made in Switzerland, and with a real ethical approach. Sundays is an independent beverage brand and focused on developing tasty, lightly flavoured alcoholic sparkling waters, while remaining true to the core values ​​of responsibility, sustainability and healthy living.
The young start-up already generated quite a lot of buzz in Switzerland; not only for its refreshing drinks, but also for its commitment to donate part of its profits to WWF sponsored initiatives for clean water.
With Sundays, a new player is entering the growing market of alcoholic sparkling water. Driven by the desire to propose a better drinking experience, the founder team created their very own Hard Seltzer. Inspired by America, adapted to Switzerland. When asked what makes Sundays Hard Seltzer different from other alcoholic sparkling waters, Katy Lee replies:
"We always knew we didn't just want to bring another product to market. We wanted our Sundays to reflect what is important to us in life: simple, quality ingredients, local production, awareness and recognition of the importance of community. We wanted our Sundays to be more than just a drink; we wanted to build a brand with a soul. "
Responsible pleasure
Changing Swiss drinking habits is part of a larger objective: to offer a fun and refreshing alternative to alcohol, to promote responsible pleasure. This attention is symbolised by the name Sundays Hard Seltzer: because in Switzerland, Sunday is considered the day of fun and relaxation, the one day in the week where you can take a break, share moments of pleasure and have fun with friends and family.
Katy explains, "We come from vibrant cities and have always felt the need to save a day for ourselves, for our friends and loved ones. A day to "refresh" and to allow ourselves to recharge in order to get the energy needed for the days of the following week. So we created Sundays Hard Seltzer as a companion for those moments of relaxation. "
A product made with conscience
From the start, it was important for the team to create a drink that was produced locally and contained only three simple and essential ingredients: Swiss sparkling water, natural fruit extracts and fermented alcohol. Designed with partners Can Kalayci and Yves Heer of Creative Food and Beverage in Bern, and produced in the canton of Zurich, Sundays is Swiss and proud of it. By donating part of the profits to support initiatives in favor of drinking water sponsored by the WWF, this start-up is also caring about the well-being of our planet.
"In addition to our current initiatives, we are working to offset 100% of carbon emissions by 2021, and to package the beverage in reusable glass bottles and recyclable aluminum cans. Our vision of sustainability is global and is based on our respective professional experiences." Katy adds.
Sundays Hard Seltzer in Comparison 
Sundays offers an alternative for health-conscious hedonists: low alcohol content, zero sugar, gluten-free and composed of only three natural ingredients, all made in Switzerland. "Drink better" is the credo here, so that you are consciously connected to your body and mind.
As millennials and Gen Z seek healthier, natural, and gluten-free options in all aspects of their daily lives, hard seltzers with their reduced calorie count, high water content, and natural flavors are often preferred to more traditional choices. In addition, the trend of millennials to drink less alcohol is boosting the low-alcohol beverage market as healthier lifestyle choices where moderation is celebrated are increasingly seen as inspirational. Sundays Hard Seltzer is part of this trend.
Combining indulgence and moderation, this tasty, lightly flavoured, alcoholic sparkling water is perfect for summer: only 4% Alc / Vol and only ~ 75 calories per bottle compared to beer, wine, and cocktails which generally contain 140-250 calories. It also only has 2 grams of carbohydrate, while a Mojito has ~ 13 grams. Sundays Hard Seltzer is therefore an ally of anyone looking to cut down and moderate, for whatever reason, this year.