You want to escape the grey but, for known reasons, are constrained to stay put in your hood? All that's in the cards right now is a virtual trip to the Caribbean? Escape the dull, one tiki cocktail at a time!
We teamed up with Old Judge Spirits and bambam barware to bring you those tropical vibes we all crave so much right now. Two fabulous gifts for your next tiki session are up for grabs: 1 bambam Bamboo Shaker in a gift box with a bottle of organic Bamboo Bitters (value EUR 150), and 2 bottles Old Judge Falernum (1 x Classic, 1 x Special Reserve, value ca. EUR 50).
The winners are: Sandra G. und Sophy L. Congratulations!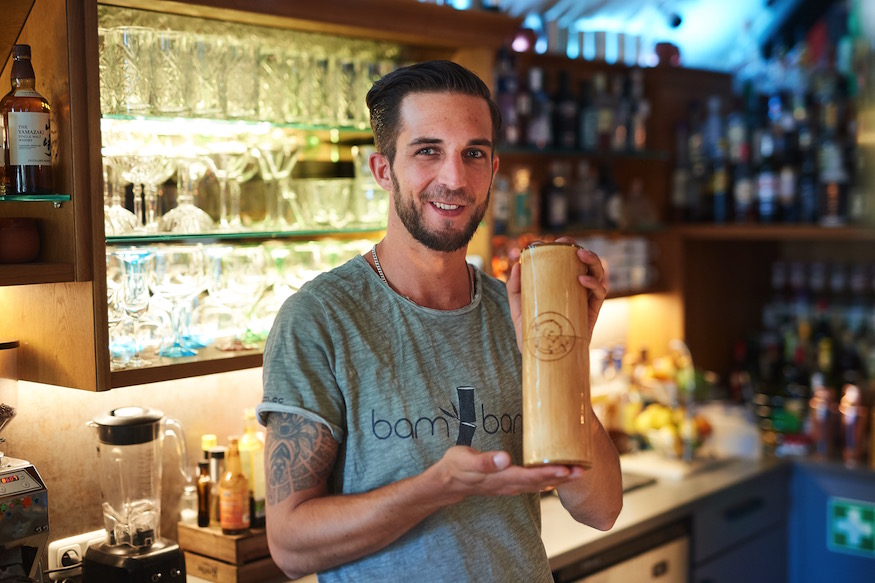 The key to a good tiki cocktail: the right barware! Meet Mario Nestlehner from Austria, creator of Bambam. An experienced bartender himself, the idea for a cocktail shaker made of bamboo came to him when he was traveling South Asia back in 2007. There, bamboo grows abundantly and is used for many purposes like furniture, house facades, appliances, table ware, and many other everyday objects. Why not bar tools?
And so, he set out to create the world's first bamboo cocktail shaker… Since then, more and more items of sustainable bamboo and coconut barware were added to the portfolio. For our giveaway, and to allow you to discover more of his fabulous products, he will send out the shaker to the winner in one of his gorgeous gifts sets together with a bottle of bamboo bitters.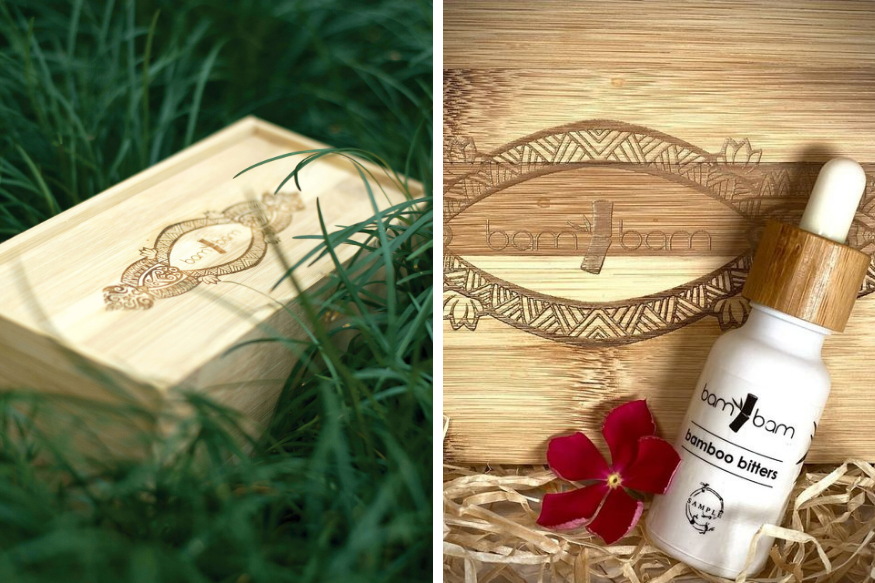 Old Judge Falernum: Classic and Special Reserve
Falernum is a type of syrup from the Caribbean. It boasts notes of ginger, lime, almond, cloves or allspice, and is mellow yet spicy. Because of its unique taste, it is often used in tropical drinks. To make liqueur, rum is added. It is fantastic for mixing tropical cocktails and tiki drinks, but can also be enjoyed on the rocks.
When Markus Altrichter sailed aboard a cruise ship in the Caribbean in 2009, he met James Crahill, the bartender who served him the best Corn'n'Oil he ever tasted. Over their passion, they became friends and James introduced him to his family. One day, at a traditional barbecue by the beach in Barbados, with classic Caribbean food and drink, Markus got to taste a cask fermented Corn'n'Oil, an experience that inspired him to create his own Falernum.
Upon his return to Austria, he tested and refined the recipe, and in 2011 bottled his first Falernum. Over time, he further improved the formula – et voilà – two types of Old Spice Falernum, Classic and Special Reserve, that we can all enjoy today.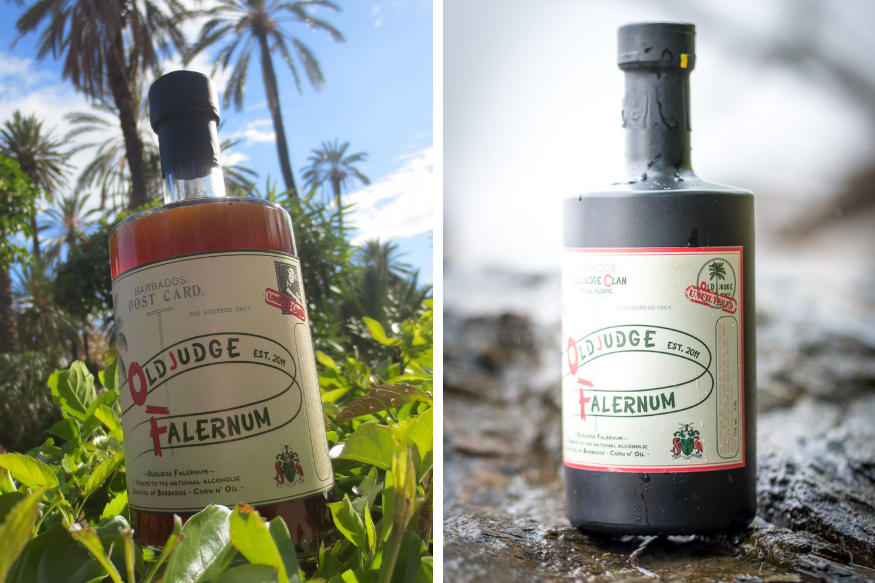 For its Falernum, Old Judge Spirits sources the best ingredients from around the world. The timeless classic Old Judge Falernum is based on the combination of 10 ingredients, including 6 hand-picked spices from around the world: ginger from Indonesia, cloves from Mauritius, cinnamon from Egypt, limes from Brazil, and allspice from Jamaica… two selected rums and sugar from Barbados, and Austrian high spring water. To gain fruity aromas, a rare almond extract is used. It brings the rum flavours forward and rounds off the whole composition.
Vanilla is known for its buttery aroma and provides the smooth and lasting finish of Old Judge Falernum, which has a wonderful chocolate color, extraordinary malty taste, and a nice spiciness. Old Judge Special Reserve was created for the company's first anniversary and is a celebration of flavour. It is characterised by 3 selected rums from Barbados and Jamaica and is a secret mix of ingredients, with strong coconut and pineapple notes.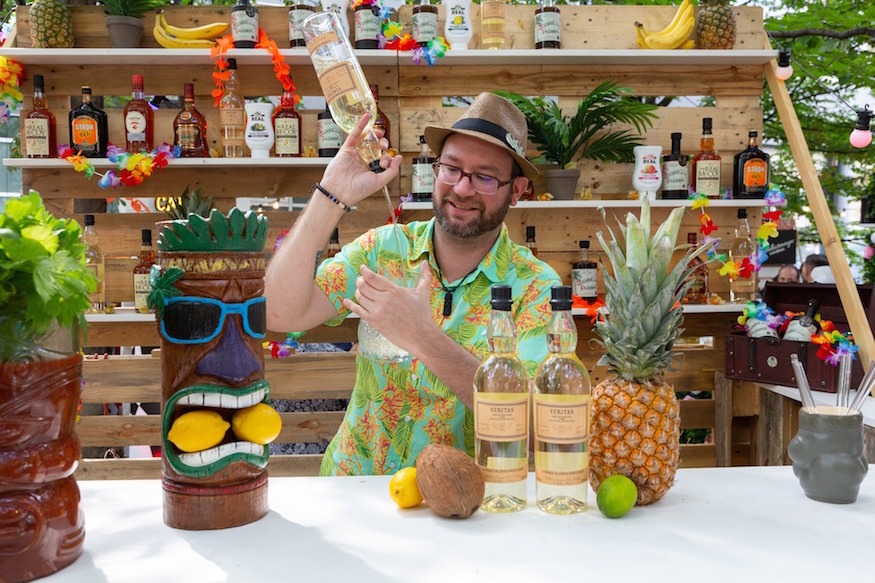 Tiki Match: Edition 2021
Since 2018, the Old Judge Spirits founders, Markus Altrichter and Julia Kub, organise a Tiki Match which is an annual highlight. Launched with the intention to allow bar professionals to embrace tiki and showcase their skills, the competition runs over several rounds and culminates in a grand finale.
For 2021, the organizers Markus Altrichter and Julia Kub have again come up with unusual and tropical features. The preliminary rounds take place in different locations: for Germany, they are held in Nuremberg and Berlin, and the winners will be announced at Liquid Market Berlin. In Austria, the preliminary rounds are held in Graz and Vienna. The challenges are accompanied and explained by a moderator and evaluated by an international, top-class jury. In this picture, Fabdrinx partner Erhard Ruthner, aka Raise-your-Spirits.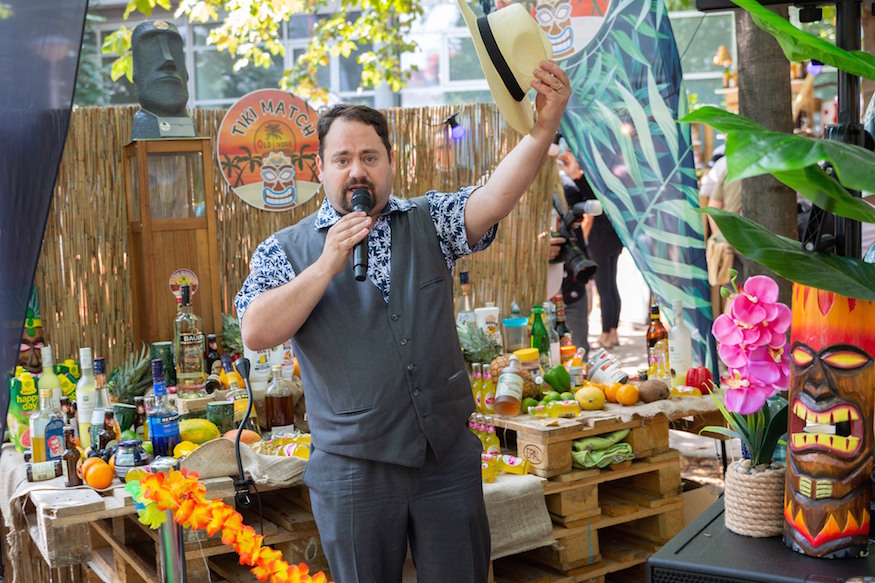 The winner gets a prize, of course! As is customary, all 4 finalists will then compete in Vienna for the main prize. The award ceremony will be held in the Tiki Village at Liquid Market Vienna. We can all look forward to a spectacular event with a unique atmosphere, great entertainment, fabulous tiki drinks and food as well as calypso tunes! Participants register directly with Old Judge Spirits via social media or by email.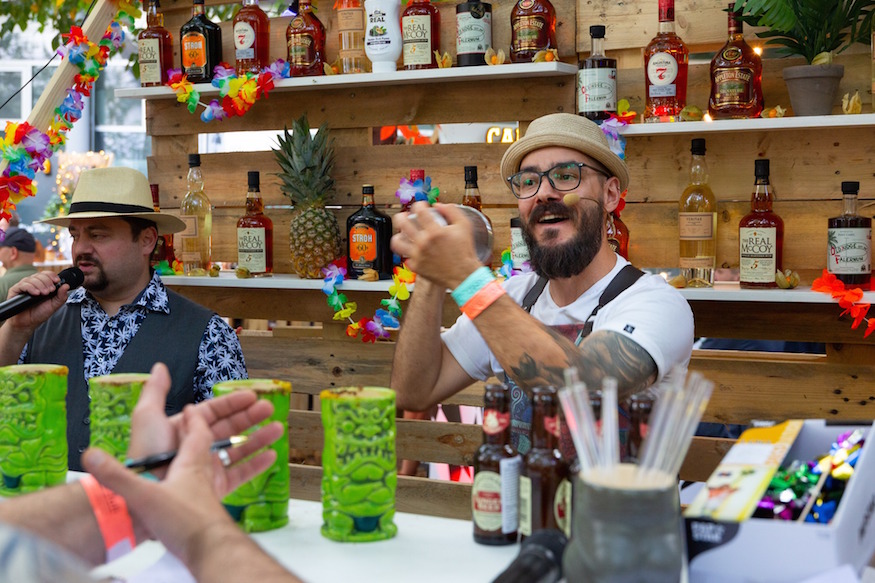 That was Tiki Match 2021: the Grand Finale in Vienna
Tiki Culture: vibe of  the South Pacific and Caribbean
Tiki is a Maori word and refers to a stone or wooden carving. Tiki decor is inspired by the Pacific cultures. It takes various influences and elements, blends them together and creates a mythical place, an imaginary Isle of Tiki. There is island music, thatch and bamboo, rum drinks with elaborate fruity decorations…
Tiki bars, once all the rage in the 60s, were making a major come back in recent years. The first tiki bar, called Don the Beachcomber, opened in 1934 in Los Angeles. But it was only after WWII, when soldiers that were deployed to the Caribbean and the South Pacific returned to the homeland that Tiki became trendy.
They brought with them a taste for the tropical and exotic, laden with escapism and a yearning for the islands… something that reverberates with many these days. The Tiki lifestyle is becoming more and more popular and tiki culture has seen a real revival in recent years. Now with the pandemic, even more of us are turning to tropical cocktails for a virtual escape to the sun.
Some say that "tiki" is offensive because of the nostalgia people express forgetting the colonialism involved; others speak of cultural misappropriation and commodifying the concept. After all, the colourful ceramic tiki mugs, for example, are shaped after the carvings that, for Hawaiians, Maori and Samoans, represent Gods and ancestors. Seeing them used like they are, far away from their countries of origin and out of their authentic context, is likely to hurt some sensibilities.
And, not everything with a hint of rum and fruit can actually be called a tiki cocktail! Bartenders around the world are working hard to rectify the wrong. From tacky tiki to classy tiki, that is the credo! Few select, high-quality ingredients, elegantly presented in order to honour the lifestyle of the local populations, to validate their real life concerns and contributions, to help preserve their culture, and to celebrate the true spirit of the islands.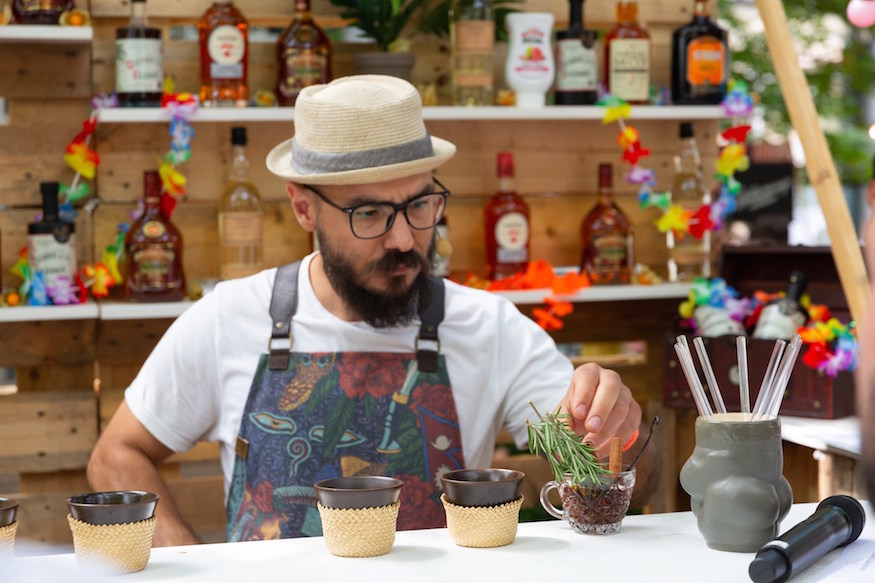 Tiki Bars and Restaurants for an immersive experience (at home)
This is the start to a list of fabulous tiki hangouts. Unfortunately, many of them are currently closed and face an uncertain future. Some offer takeaway and delivery solution. Lets give them as much support as we can and update this list regularly.
Austria 
Matiki Bar, Vienna: tiki cocktails for take away.
Honu, Vienna: tiki bowls for delivery, pickup and takeaway.
Germany
Trader Vic's Bar, Munich: inside hotel Bayerischer Hof, currently closed
Die Blume von Hawaii, Nuremberg: currently closed
Kon Tiki, Nuremberg: currently closed
Switzerland
Dan'ton-Ku Tiki-Bar, Biel/Bienne: cocktail delivery and take-away.
Casa Tiki, Geneva: closed for now as far as we know. Check back in March!
Tiki Rock Bar, Geneva: located inside an American Diner, closed for now, deliveries
Tiki Strandbar Goldach: seasonal, reopens in summer and is currently looking for staff.
Mata Hari Cocktail Bar, Zurich: idem
Tiki Cocktails you just gotta love
The Corn n' Oil is probably the best known, archetypical Tiki Cocktail. But the colour palette of tiki is vast and you are the artist. Let your creativity flow! Here some inspiration for drinks with Old Judge Spirits, there are more recipes on the website!

1. Corn n' Oil
5cl dark aged rum
3cl Old Judge Falernum
2cl fresh lime juice
5 dash Angostura Bitters
Stir all ingredients in the mixing glass onto ice cubes and serve on ice ball in a tumbler / small tiki mug! Complete the drink with an orange zest.
2.#Tiki Oida
4cl dark rum
3cl over proof rum
3cl Old Judge Falernum
2cl fresh lime juice
5cl Old Judge Fassionola
4 dash Angostura Bitters
Mix all ingredients on crushed ice in a shaker, strain directly in a TIKI MUG and decorate with seasonal fruits and a mint sprig.
3. Aloha Spritz
3cl Old Judge Falernum Special Reserve
1cl fresh lime juice
top up Prosecco
Serve all ingredients in a WW glass on ice cubes orange pieces as decoration.
As a bonus, and to put you right in the mood to get mixing, click on the video below to see the bambam shaker in action and to reveal one more fabulous tiki cocktail recipe!
Tiki Playlist: the web is your friend!
You like what you heard there? We dropped something here for your continuous hearing pleasure: one hour of beautiful tropical sounds. There is more on Youtube, of course. Some playlists are 10 hours long! Enjoy!
We hope you enjoyed that little escape to the Isle of Tiki and will return frequently. This article is not extensive, it shall be updated regularly!