Innovative drinks professionals around the world find creative solutions to procure cocktail enjoyment for their clients. Kacper Dylak and Felix Haag are no exception! With bottled-cocktails.ch they created a new platform for bartenders and restaurateurs as well as cocktail lovers and connoisseurs – powered by bartenders and tailored to the new normal: drinks @ home, to pick-up, take away or order online, in times where a stroll to one's favorite local bar is not possible.
Nothing can replace the joy of going out and meeting friends for drink, but why renounce the pleasures that are accessible to us while helping our cherished barmen stay in business? Via bottled-cocktails.ch you can have a unique cocktail experience delivered at home: high-quality spirits, specially produced distillates and liqueurs "made in Switzerland", combined with freshly processed regional ingredients.
The creativity of this Swiss cocktail collaborative knows no bounds. Kacper, Felix and their extended network make bar culture accessible to everyone, all over Switzerland. Just recently, they organised the first Swiss Bottled Cocktail Competition in collaboration with Lateltin.
We teamed up, to give the three finalists a little boost! There fabulous creations are now available for purchase at bottled-cocktails.ch. Here a short presentation:
Marion Moutte, Lausanne Cocktail Club: For A Greener Day
May your day be green and bright! When worlds collide: craft gin from the Island of Islay, Swiss pine and honey, German bitters and Dutch banana liqueur… welcome to the world of NOW in which we are all connected and one with nature.
Swiss Cocktail Champion 2020, Marion Moutte from Lausanne Cocktail Club, created a mystical, earthy elixir for the Bottled Cocktails competition. "For A Greener Day" is an aromatic cocktail that will warm your heart and soul. Put some more logs in the fire, lean back and chill!
Homemade pine cordial with a hint of lime blossom honey, The Botanist Gin, Pisang Ambon banana liqueur, The Bitter Truth Chocolate Bitters. Herbal aromas that reminisce the vast expanses of green in Scotland, Swiss winter forests, and hints of chocolate. Diluted with honey and banana, that reveal and tie in with the botanicals perfectly. Aperitif or digestif? A question that can only be answered by a counter-question "Why or?"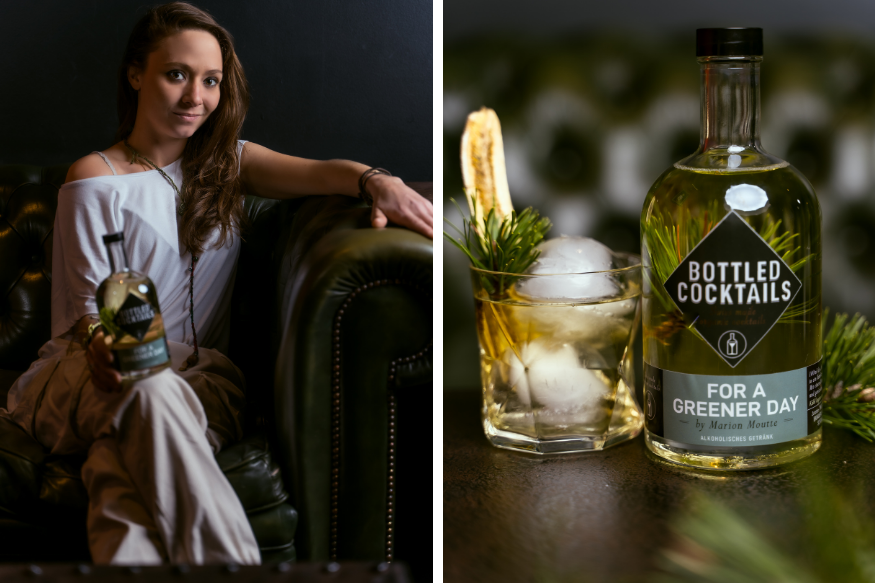 Loris Pirkheim, Kurt & Kurt Bern: Bye Sharona
Bye Sharona, Hello Weekend! Out with the old, in with the new. CHEERS to better times ahead than those we left behind. Loris's entry in the Cocktail Competition is made using the slow cooking method. You'll find a few tasty ingredients in the mix: Mount Gay Rum Black Barrel, sage, homemade sugar syrup, apple cider vinegar…
Sage, or evergreen, is reputed to have healing powers. It is balm for the soul and tastes fabulous in combination with the apple cider vinegar, and the wood and caramel notes from Black Barrel Mount Gay Rum. Sugar and spice and everything nice! On top of that, dried apple slices are included in the bundle for a garnish and as a snack. Vamonos to Barbados!
Leonardo Mesmer, Art House Basel: Märli Tante
Meet Leonardo Mesmer, the third finalist of the Bottled-Cocktails.ch competition. Leo loves fairytales since he was a little boy. Just like a well narrated story takes you into another world, a sophisticated cocktail does too. That is why his cocktail is dedicated to the "Märli Tante", Swiss German for "narrator of fairy tales".
A cocktail that is based on the wonderful cognac Rémy Martin 1738. There is also the intense orange aroma of Cointreau, refined nuances of blood oranges and hazelnuts. A touch of elegant acidity and a pinch of sea salt. Enchanting and exciting like a good fairytale that you could hear again and again sitting by the fireside.