One fine spring day, when the sun slowly moved through the clouds and the view in Das Loft, the restaurant on the 18th floor of the Sofitel in Vienna, promised to be clear and spectacular, we participated in the presentation of the second single malt bottling from Glenmorangie's Bond House No. 1 series. Paul Malone, Global Brand Ambassador for Glenmorangie, came to Vienna especially for this occasion in order to present the 1989 Glenmorangie Grand Vintage Malt.
The likeable Scot, who was once a professional footballer, explained the particularities of this bottling. Bond House No. 1 series replaces the Glenmorangie 25 years and aims to bring single malts from special vintages into the bottle.
Since the distillery was expanded in 1990, it was necessary to relocate the still house, the place where the distillation really takes place. In this respect, the 1989 vintage is the last to be distilled in the old still house. A peculiarity that was used by whiskey maker Bill Lumsden to create this particularly fine malt aged in red wine barrels from the French Côte-Rôtie. The result: a whisky, reminiscing the typical house style, characterized by great sophistication and depth.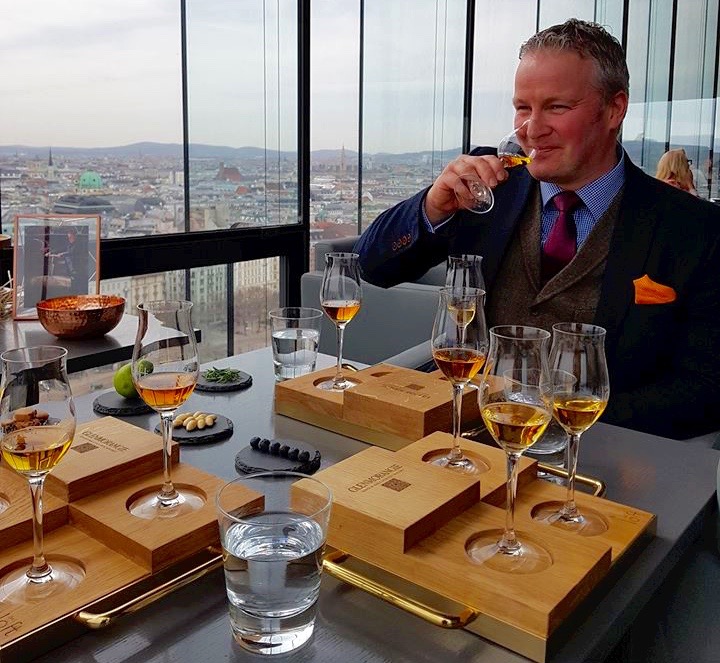 To start with
The tasting was based on the distillery's standard product, the Glenmorangie 10 years. It is the house's best-selling product and above all the bottling that shows Glenmorangie's style excellently. It is only stored in former bourbon barrels, which are carefully refilled at the distillery at most twice. In addition to procuring pleasant vanilla and caramel flavors, these barrels also ensure that the light distillate that flows from the highest pot stills in the Scottish whisky industry can fully develop its unique character. Particularly when adding a small drop of water a delightful fruitiness and a creamy feeling enchant the palate.
To demonstrate the influence of age, but also the nuances of a second barrel type, we received Glenmorangie 18 years as a second sample.
Based on the standard recipe, special barrels are stored longer. However, part of the whisky is moved to former Oloroso sherry casks, where it remains for 36 months before being remarried with the rest of the malts. This measure also brings notes of fudge, some hazelnut, a good balance and enormous length.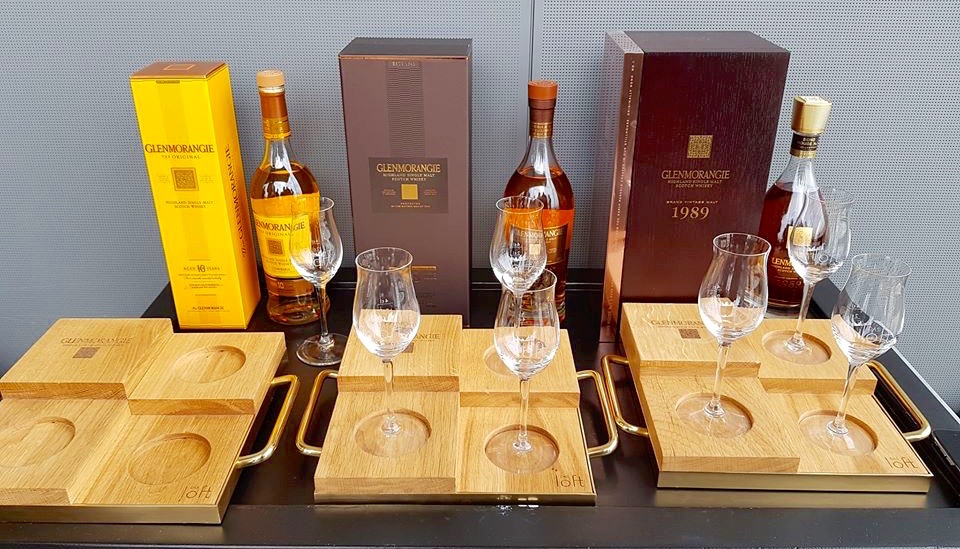 To continue
Now that the palate had touched on older whisky, the moment came to try the Grand Vintage 1989, of which only about 6,000 bottles were filled.
The almost 3 decades in Bourbon, Oloroso Sherry and finally Côte-Rôtie barrels have given the malt an intense copper color. Slight hints of woody smoke and fine tobacco are balanced with notes of baked apple and dried dates. On the palate, an almost oily structure can be felt, which heralds an enormous length in the finish.
This exclusive bottling definitely delivers what it promises and fits seamlessly into the range of specialties of the Highland distillery. Slaînte!