Goldhelm Schokolade is a small chocolate manufacture located at Krämerbrücke in Erfurt. Making chocolate is a passion and an art that the Chocolatiers at Goldhelm master to perfection: finest truffles and pralines, semi-sweet chocolate or dark chocolate with a high percentage of cocoa, plantations chocolate from South Venezuela, from Ecuador or Trinidad, chocolate with plums and papaver, chocolate with chopped apricots and chestnuts, chocolate with candied balsamico – perfect to pair with a good red wine…
We put a gorgeous gift from Goldhelm behind the 18th window of our Advent Calendar: a fabulous Drink Chocolate and two Ganache – one dark chocolate with quince jelly, juniper and gin from the Mühlenbrennerei, and one milk chocolate with whiskey, cranberries and chili!
To enter the giveaway, simply follow these steps:
Like this post on Instagram or Facebook

Follow fabdrinx and Goldhelm Schokolade
It's Follow Friday today: tag a sweet tooth in the comments who we need to follow on Instagram!
The giveaway runs until 24.12.20 across all our digital channels. Each participation in every channel counts and increases your chance to win. On Boxing Day, the winner of this gift will be determined by lucky draw. Thank you for being sweet and kind and having joined our community. We wish you much fun counting down to Christmas with us and Good Luck!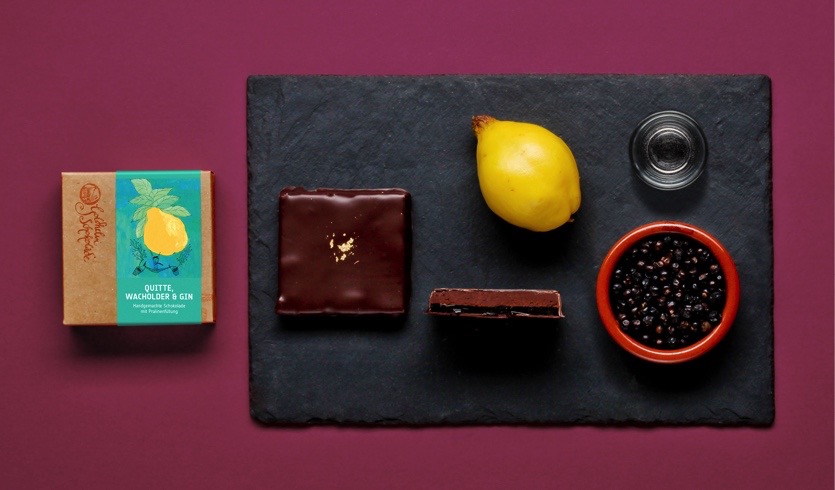 Maître Chocolatier Alexander Kühn, a qualified design artist, starts his working day by stirring only the finest ingredients in the kitchen of his chocolate shop to create little culinary chef d'oeuvres. These are then lovingly wrapped and labeled with distinctive specially designed labels, created by Alexander himself. No matter if you buy one or one hundred truffles, for Alexander it does not make a difference. Even selling just a single truffle, he always gives his guests a hearty smile on their way back home.
If you are lucky, you can watch him make his chocolate in the shop's kitchen and witness how the 'Brücken Trüffel' is made. This is the most traditional truffle, according to Alexander. To make it, the temperature must just be right: not higher or lower than 31° to 33°C. Otherwise, the coating will not be homogenous and the chocolate be just an indefinable chunk.
But making chocolate does also require experience. Having worked as a cook, specialized in French cuisine, Alexander discovered his sweet passion while travelling and working abroad in various places around the world.
If you are visiting Erfurt – and as soon as the sanitary situation allows it again – swing by Goldhelm to immerse in their sweet universe!